Dmitry Medvedev, the prime minister of Russia, today (30 November) said it was "laughable" to criticise Moscow's hacking operations – because every country spies on each other.
"As far as reproaches being made against us, this is a hackneyed theme and the same old song and dance," Medvedev said, speaking on state television, as reported by state outlet Tass.
"We constantly hear that all hackers in the world are the Kremlin's agents," he added. "One may think this is our sole obsession. Everybody tries to spy on others. Reproaching our country for this is laughable.
"Everybody understands that perfectly well. But some states have turned this into a means of handling internal political problems, a way of settling internal scores."
Talking to state media, the PM said relations with the US were currently in a "disgusting" condition.
"The anti-Russian lobby in Washington is provoking ever more unfriendly actions," Medvedev asserted.
Moscow's spy agencies have been accused by Western intelligence of launching an unprecedented cyber warfare campaign as part of an attempt to influence the outcome of elections.
Last year, experts found two known Russian hacking groups, dubbed Fancy Bear and Cosy Bear, had separately infiltrated the computer networks of the Democratic National Committee (DNC).
What followed was a sophisticated campaign of orchestrated leaks, which the FBI, NSA and CIA believe was linked to a clandestine scheme to help elevate Donald Trump to the White House.
Medvedev, in technical terms, was correct: every intelligence agency hacks for espionage. The NSA is known to have a global surveillance apparatus, for example. But it was the leaking of political data that experts say was unique – a calculated, state-sponsored, influence campaign.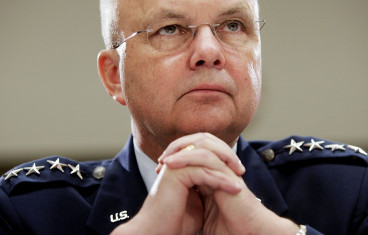 Michael Hayden, former chief of the NSA and CIA, said in October: "A foreign intelligence service getting the internal emails of a major political party in a major foreign adversary? Game on. That's what we do."
But he added: "That has now moved from an espionage activity to a covert – or not very covert – influence operation.
"I think they are doing it to mess with our heads. I think they are doing it because [Vladimir Putin] is convinced we do this to him all the time. We do not. We don't."
The Russian president previously teased Russian hackers were involved in the DNC hack, but has consistently denied the cyber activity could have been sanctioned by the Kremlin.
"Hackers can be anywhere," Putin said in early June 2017. "They can be in Russia, in Asia, even in America, Latin America," he continued. "They can even be hackers, by the way, in the United States who very skilfully and professionally shifted the blame, as we say, onto Russia."