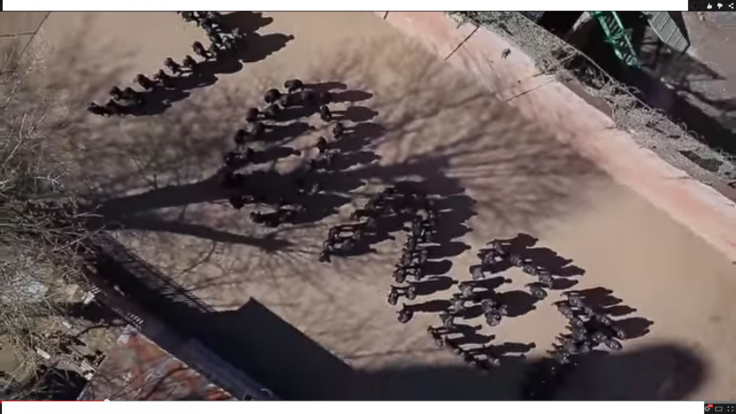 Russian prisoners in St Petersburg formed a flash mob to mark the 70th anniversary of the Soviet victory over Nazi Germany in World War II.
Wearing black prison uniforms and singing a patriotic song, the inmates marched into a high walled prison yard in central St Petersburg. Filmed from overheard, they can be seen forming the message 70 Years - Thank You For Victory, and releasing balloons into the air in tribute to the 26 million from the Soviet Union who died in the war,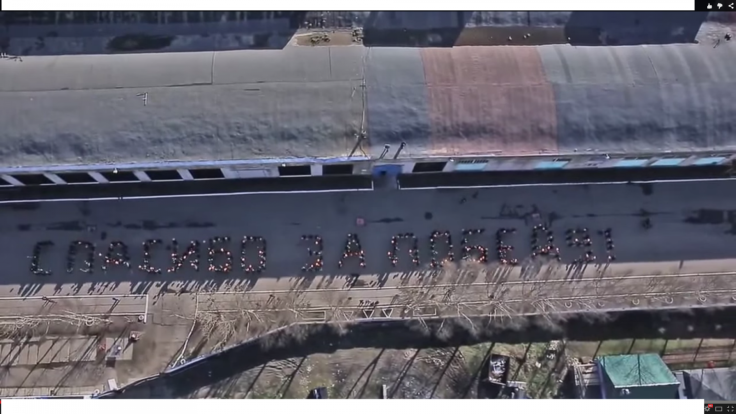 The video comes with rehearsals for Saturday's (9 May) mammoth Victory Day parade underway in Moscow's Red Square.
Russia is set to showcase a number of new military vehicles at the parade, including the semi-robotic T-14 Armata tank, as well as armoured personnel carriers, fighting vehicles and self-propelled artillery models.
At a rehearsal on Monday, the T-14 was seen without its cover for the first time.
In total, over 16,000 troops, 194 vehicles and 143 military aircraft will take part in the parade.
But amid tensions with the West over the Ukraine crisis, Western leaders including German Chancellor Angela Merkel and British Prime Minister David Cameron will boycott the event.
Among the 20 world leaders who will be attending are the presidents of Cuba, South Africa and India, who will lay wreaths to Russia's war dead and watch a fireworks show.
The leaders of a number of countries liberated by Red Army troops during the war, including the presidents of Ukraine, Czech Republic and Poland, will attend a separate event in Gdansk, Poland, where the first shots of World War II were fired when the German battleship Schleswig-Holstein opened fire on a Polish garrison at 4.47am on 1 September 1939.