Russia's Channel One Uses Team Fortress 2 Video Game Poster to Depict 'Crude' US Propaganda
Russian TV show mistook fan art for popular online video game with WWI US military propaganda
Russia's Channel One has used an online fan art poster of popular video game Team Fortress 2 in its historical programme "World War I" to illustrate US military state propaganda during the Great War.
According to the programme, the "crude" posters were created by the United States Committee on Public Information under the direction of George Creel to depict the Germans as monsters "regardless of any logic or common sense".
"The American public had to firmly acknowledge that Germans were evil," the Channel One narrator said.
However, the leaflets were not in fact produced by the American propaganda machine at the beginning of the early 20th century. As highlighted by blogger Nikita Likhacehev, the poster was drawn by a Finnish artist under the pseudonym of TankTaur on the website DeviantArt in December 2009.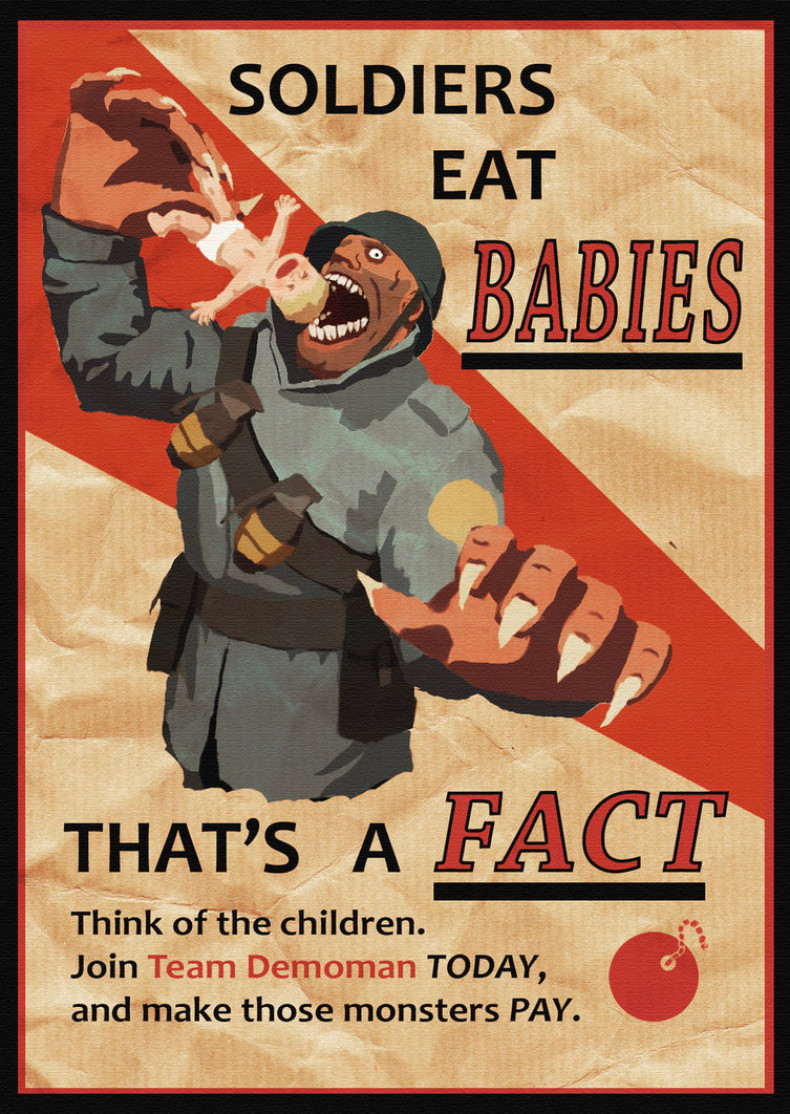 The poster stressed ironically that soldiers – characters from the game Team Fortress 2 – eat children and that one should join the demolition team (Team Demoman – another character type in the game) to make the soldiers pay for their atrocities.
Team Fortress 2 is a popular multiplayer online shooter from studio Valve, released in 2007. The game features cartoon-style characters and bases its imagery on the work of artists of the early twentieth century. TankTaur painted three posters for an art competition organised by Valve.
The Channel One episode described how state propaganda was set in place in France, the US and the UK. It also detailed French plans to create a fake Paris to divert the enemy's attention during bombings and mentioned the "laughable" attempt by British media to censor media coverage of the sunken HMS Audacious.
"Britain was virtually drowning in the ocean of posters and leaflets. Its horror-propaganda would churn out new and heartbreaking accounts," said the documentary.