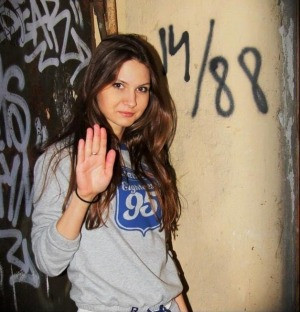 The newly crowned winner of the Russian Premier League's 'Miss Charming' beauty contest has lost her title after being accused of neo-Nazism.
21-year-old Olga Kuzkova was selected by Russian club Spartak Moscow to be their beauty queen, and was subsequently judged the 'most charming' of all of the representatives of Russia's 16 Premier League sides.
However, pictures have emerged from Kuzkova's page on Russian social networking site VKontakte exposing her far-right allegiances.
In one picture, Kuzkova raises her right arm in what appears to be a Nazi salute in front of a wall daubed with white nationalist and pro-Hitler graffiti.
Another image depicts a woman wearing a French maid costume with a Nazi arm band standing in front of flaming oven. As reported in the Moscow Times, the photo was captioned with text calling for the burning of Jews and "khachi" – a derogatory term for Caucasus people.
After CSKA Moscow fans brought the pictures to the attention of Russian footballing authorities Kuzkova was stripped of her title.
"We do not tolerate manifestations of fascism, nationalism and racism," Sergei Cheban, executive director of the league, told the Sport Express newspaper.
"However, I beg people to understand the situation and the person. When we are young we all make mistakes, sometimes going the wrong way. Who is not without sin?"
"I will be glad if this situation will help Olga [Kuzkova] sort out her worldview."
Racist football fans have plagued Russian football for years, with CSKA Moscow handed a three game stadium ban by Uefa last year after racist behaviour by fans in Champions League games.
Brazil international and Zenit St Petersburg forward Hulk recently revealed that he is subjected to racial abuse "in almost every game" he plays for the club.
The scandal comes with Russia due to host the World Cup in 2018.
Piara Powar, of Football Against Racism in Europe, said "An acceptable long-term reaction can only come through the implementation of an action plan covering all elements of racism, discrimination and far-right involvement.
"The World Cup is a global event. Hosting it means a global spotlight is focused on whoever wins the rights. And Russia will continue to face questions over these issues around the world until we see some real progress.