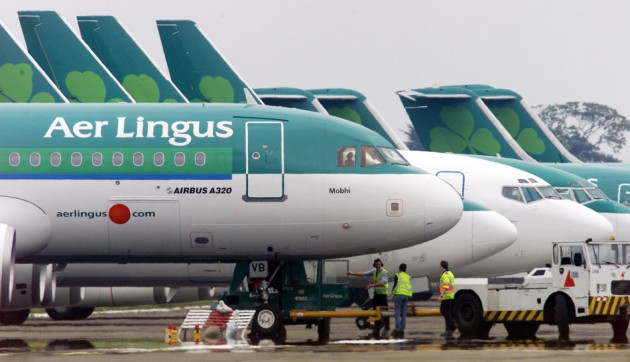 Ryanair shares rose and Aer Lingus stock soared after the Europe's biggest budget airline made a third attempt to buy the 75-year-old Irish flag carrier, a move regulators have rejected before because of competition fears.
The offer is for €1.30 a share, a 38 percent mark-up on the market price when trading closed before the bid, and would see Ryainair increase its current 30 percent stake in Aer Lingus to 50 percent.
"This offer represents a significant opportunity to combine Aer Lingus with Ryanair, to form one strong Irish airline group capable of competing with Europe's other major airline groups," Michael O'Leary, Ryanair's chief executive, said in a statement.
Aer Lingus stock rocketed by 24.7 percent in early trading to €1.15 at 08:25am BST. Elsewhere on the London Stock Exchange Ryanair shares had risen 1.08 percent on the day to €4.02 at the same time.
Ryanair's latest bid values Aer Lingus, which is a quarter owned by Ireland's government, at €694m. (£559.5m).
Irish lawmakers must sell the taxpayers' stake in Aer Lingus as part of the EU/IMF bailout deal.
If successful, Ryanair's bid would see it control 80 percent of the air traffic between the UK and Ireland, something that regulators have said in the past would stifle competition.
The company said it could negate competition fears by "making appropriate remedies prior to the completion of this offer and by significant synergies and cost efficiencies resulting from this combination."
In a separate ruling by the British Office for Fair trading in the week before the bid, Ryanair's existing stake in Aer Lingus was deemed to be hurting competition.
"We are concerned that Ryanair's shareholding places it in a position to influence the commercial policy and strategy of Aer Lingus in a number of different ways that could dampen competition to the disadvantage of UK passengers," Amelia Fletcher, OFT chief economist, said in a statement.
Fletcher said she would be referring the situation to the Competition Commission.
EU regulators rejected a full Ryanair/Aer Lingus merger in 2007 because of the dominance it would have in the Irish airline market.
In 2010 Ryanair's appeal against the regulators' decision was thrown out.