A Ryanair promotion offering British ex-pats the chance fly back to the UK for €19.99 (£15, $22) so they can vote to remain in the EU has been reported to the police by the Vote Leave campaign over allegations that it breaches bribery laws.
The Irish airline company offered its 'Brexit sale' to give the one million-plus Brits currently living abroad the chance to fly back home on 22 or 23 June to take part in the upcoming EU Referendum.
Ryanair said it is offering the deal as it is actively campaigning for a 'Remain' vote in the 23 June 2016 referendum and a "committed supporter" of the UK remaining in Europe.
Campaign group Vote Leave has now reported the offer to the police over allegations that it breaches the law in the Representation of the People Act 1983 regarding "treating".
The act states that a person is guilty of treating if they corruptly, by themself or by any other person, "either before, during or after an election, directly or indirectly gives or provides, or pays wholly or in part the expense of giving or providing, any meat, drink, entertainment or provision... to any person for the purpose of corruptly influencing that person or any other person to vote or refrain from voting".
In a two-page complaint to Met police commissioner Sir Bernard Hogan-Howe, seen by the Guardian, Dominic Cummings, campaign director of Vote Leave, said: "By its discount on flights on the day before, and the day of the referendum, Ryanair is paying the expense, in part, of provision to voters in order to influence them to vote in the referendum. This appears to be corrupt, since the company is offering discounts on the commercial rate to customers with the sole aim of ensuring that they vote and vote to remain in the European Union."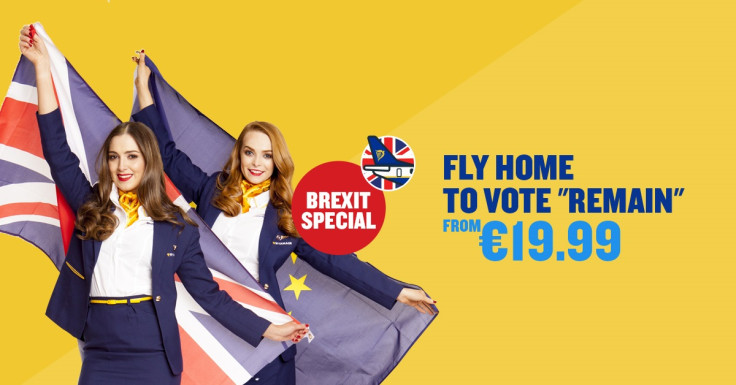 Cummings is said to have compared the offer from Ryanair as someone standing outside a polling station offering cheaper drinks to whoever voted a certain way. He added: "That cannot have been parliament's intention... and would allow the democratic process to be gravely undermined by the wealth, power and influence of multinational corporations which have a direct financial interest in preserving the corrupt regulatory system of the EU."
Ryanair owner Michael O'Leary, an outspoken backer for the UK to remain in the EU, said the offer "fully complies with Ryanair's policy of lowering the cost of air travel to/from the UK". He added: "Vote Leave must be getting really desperate if they are now objecting to low-fare air travel for British citizens."