Davis Love III and Jose Maria Olazabel are keen to soak up every moment of this weekend's Ryder Cup match at Medinah.
While the weekend marks the end of a two-year journey for both captains, the pair have their chance to etch their name in Ryder Cup history.
And for Love, who won the trophy twice as a player at The Belfry in 1993 and at Brooklyn in 1999, the wait is finally over and he's hoping to do the sport of golf proud.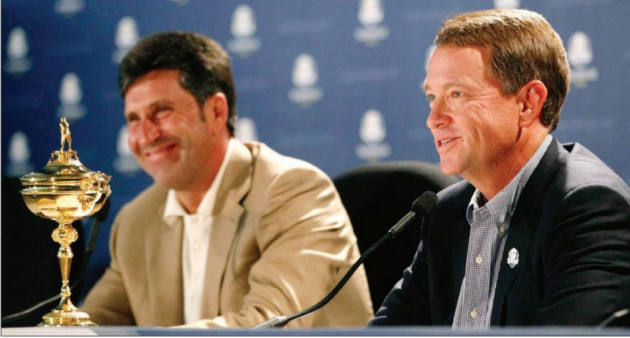 "This has been incredible -- I told José, finally we are going to get to play golf, and unfortunately that means it's almost over," Love said.
"It's been a long two-year journey for us, but it really has been a lot of fun. I can't tell you how many moments I've had in the last week or two that it's really hit me how much fun it is and how exciting it is and what an honor it is.
"We are fortunate to play a game and represent a game that is the model for all other sports. It always has been. I think this match and the friendship that it begins with and the friendship that it ends with is different than any other sport."
Olazabel, a four-time winner with Europe, the last of which came on American soil at the K Club in 2006, says he will try to pass on advice from Ryder Cup veterans Seve Ballesteros and Bernhard Langer to his team.
"This is a huge week for our game and for all of us," the Spaniard said. "I think the most important thing is the passion that everyone brings into the team and into the game itself.
"You have to make your players believe that you're playing for something really special, that it's a unique moment. It only happens once every two years.
"And just let them realize that there are moments that are unique to this event; that it won't happen anywhere else in any other tournament, and then obviously the knowledge, the knowledge that everyone has through experience.
"You try to pass that on to the players. That's what I learned from Seve, from Bernhard, and all of the past captains. You know, you have to be really prepared to give your best and your all for this week."