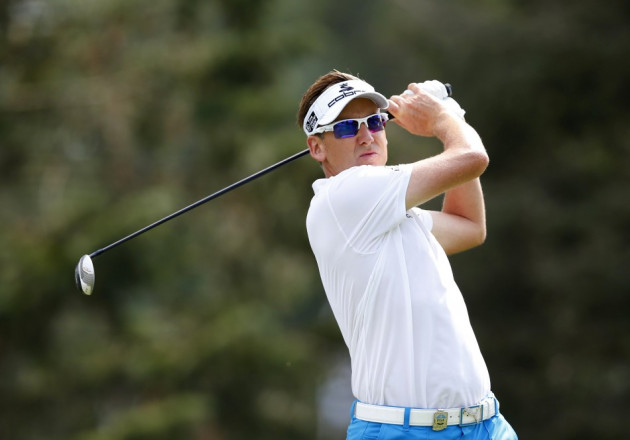 Paul McGinley has warned Ian Poulter that he is not yet guaranteed a spot in his European Ryder Cup team at Gleneagles next September.
Poulter mesmerised at Medinah last year as he struck five straight birdies in a row to win his Saturday afternoon fourballs match with Rory McIlory, before beating US Open champion Webb Simpon in his singles match to make it four points in four matches.
His relentless form sparked the 'Miracle of Medinah' into life and proved to be another case of the 37-year-old spearheading the European challenge after winning three points from four at Celtic Manor in 2010 and four from five at Valhalla in 2008.
The Englishman has however twice made the European team as a wild card selection en route to amassing his 11 wins from his 13 matches and despite his love affair with the competition, McGinley insists Poulter's inclusion will depend on his form leading up to the 40th instalment of the Ryder Cup next year, and not past heroics.
"Ian Poulter is a special guy and what he did last year was incredible," McGinley told Sky Sports. "It wasn't a case of making five birdies when everything is with you and you are hearing the roars around the golf course and things are flying.
"Making five birdies on the Sunday when the momentum is with you is one thing, but what Ian Poulter did in making five birdies in a row on the back of Rory making one on 13 is incredible.
"It really was one of the most incredible achievements I have seen on a golf course. That was a monumental achievement and there is no doubt he personally pulled the team into a position to be just within touching distance.
"But I am not saying anybody is in the team. I am talking in the past and I am talking about what he has achieved until now. I can assure you that if Ian Poulter has a very poor year next year he is not going to be in the team.
"But the chances of Ian Poulter having a very poor year are slim and I am hoping that doesn't happen.
"I would love to have him in the team but he has to earn his stripes. He has to prove to me he is on his game and mentally and physically ready."