SABMiller Plc plans to revamp breweries with $2.5 billion investment in Africa as the group sees strong prospects for increasing its volumes, revenues and profitability.
"We are still looking at around $400 to $500 million dollars a year for the next three to five years," said Mark Bowman, SABMiller's Managing Director for Africa at the Reuters Africa Investment Summit.
The group, in line with its established strategic priorities, plans to drive growth by strengthening and extending its brand portfolios and channel management capabilities while maintaining its focus on cost control and productivity. The company is scheduled to release its fourth-quarter trading update on Thursday.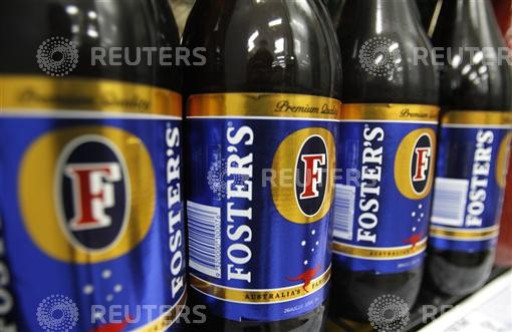 Whilst Standard & Poor's sees stable outlook for the brewing and beverage company.
The world's second biggest brewer is advancing up production of affordable beer by using local ingredients such as cassava and sorghum instead of the more expensive barley to drive growth. SABMiller launched the first cassava-based beer late last year in Mozambique, an affordable beer blend that fetches up to 70 percent of the price of mainstream beer, driven by lower taxes.
Looking ahead, the group will continue to develop the beer category, to build leading brand portfolios in local markets and to capitalise on its global scale. It sees bright prospects for increasing volumes, revenues and profitability over the medium to long-term and its strategies for organic growth remain clear and consistent. It has the skills, resources and capabilities to continue making progress and looks forward to another year of generating value for its shareholders.
SABMiller, in its latest management statement, reported lager volumes for the third quarter at 3 percent, ahead of the prior year with good growth in all of its regions with the exception of Europe and North America. While soft drinks volumes grew by 6 percent, overall financial performance for the quarter was in line with its expectations.
In February, the group announced an investment of US$80 million in a new brewery at its Ugandan subsidiary, Nile Breweries (NBL), doubling the company's design capacity to 3.6m hectolitres by 2013.
"In our view, SABMiller (BBB+/Stable/A-2)has a strong economic incentive to support Foster's because any material default by Foster's is likely to trigger a default of the rest of SABMiller's debt facilities. We base this assumption on our understanding that Foster's will be defined as a Principal Subsidiary under SABMiller's debt facilities. Furthermore, we consider that the size of the Foster's acquisition--which represents 15%-20% of SABMiller's consolidated EBITDA--and the degree of integration between the two companies also support our decision to equalize the ratings," said Standard & Poor's in a note to its clients.
The equalization of the ratings on Foster's with those on SABMiller means that they will move in tandem from now on. Upward rating pressure would therefore depend on upgrading SABMiller.
Below is a summary of sector comparisons in terms of price earnings, earnings per share, dividend per share, dividend yields, return on equity and price-to-book ratio. The table explains how the company is performing against its peers/competitors in the sector. The table below represents top six companies based on market capitalisation.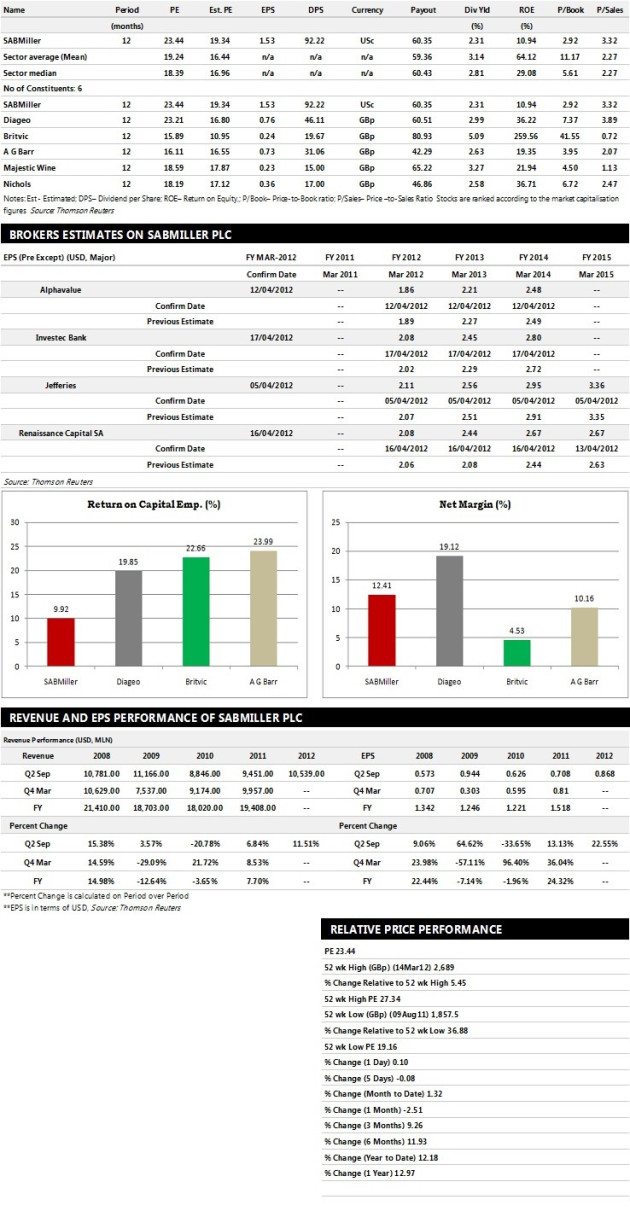 Brokers' Views:

- Renaissance Capital gives 'Underperform' rating
- Jefferies assigns 'Buy' rating with a target price of $45.24 per share
- Nomura Securities recommends 'Hold' rating with a target price of $42.76 per share
- Sanford Bernstein gives 'Hold' rating with a target price of $46.79 per share
Earnings Outlook:

- Investec Bank estimates the company to report revenues of $21,618.20 million and $24,998.60 million for the FY 2012 and FY 2013 respectively with pre-tax profits (pre-except) of $4,517.40 million and $5,241.80 million. Earnings per share are projected at $2.08 for FY 2012 and $2.45 for FY 2013.
- Renaissance Capital projects the company to record revenues of $21,745 million for the FY 2012 and $24,722 million for the FY 2013 with pre-tax profits (pre-except) of $4,339 million and $5,112 million respectively. Profit per share is estimated at $2.08 and $2.44 for the same periods.
- Jefferies expects SABMiller to earn revenues of $21,791 million for the FY 2012 and $25,272 million for the FY 2013 with pre-tax profits of $5,076 million and $6,067 million respectively. EPS is projected at $2.11 for FY 2012 and $2.56 for FY 2013.