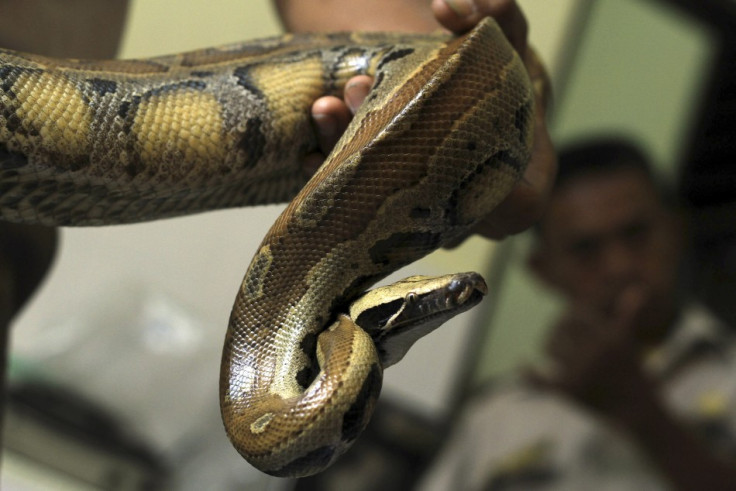 A leading animal charity is looking for the owner of a pet who posted a video online showing a python eating a playful kitten, it has been reported.
The pet owner, apparently in his 20s, is shown carrying Jasmine the cat in a Santa hat to a bedroom.
The Christmas video posted on a site called Flix shows a yellow Burmese python half hidden under a pillow pouncing on its prey.
The python pounces, instantly coiling around the cat in a death grip, the report in the Sun has said.
Once the kitten's tail stops flapping the snake swallows her in full.
As the python eats the kitten, the Christmas song Little Drummer Boy plays in the background.
A footnote to the seven-minute footage - entitled "Python Christmas" - promises more "feeding videos".
The account from which the video was posted shows to have been registered in Islington, North London.
Animal charity RSPCA has asked the newspaper readers to help them track down the individual behind the "sickening" clip.
If arrested he will face six months' jail and a £20,000 fine for causing unnecessary suffering under the Animal Welfare Act 2006.
An RSPCA spokeswoman said: "There is no excuse for feeding a live cat to a python."
One clue to nab this person is that he is a fan of the Disney film Aladdin. Images and songs from the movie have been posted on his YouTube site.
"The kitten is probably no older than four months. It has no hiding place and can't get away," veterinarian Pete Wedderburn says.
"These are the actions of a sadistic human being."