The Foreign and Commonwealth Office has advised against all but essential travel in parts of Thailand as violence escalates and the risk of terrorist attacks grows.
The provinces of Pattani, Yala, Narathiwat and Songkhla on the Thai-Malaysia border are too risky for travelling in, the Foreign Office said. It also advised against travel to the Preah Vihear (Khaoi Pra Viharn in Thai) temple area and the Ta Krabey/Ta Moan temple compound on the Thai-Cambodian border because of the presence of troops.
Political demonstrations are ongoing in and around Bangkok and elsewhere in the country. Firearms and grenades have been used and the death roll has risen since anti-government protests began.
Anti-government demonstrations
Demonstrators took to the streets at the end of an eight-year dispute, which placed supporters of prime minister Yingluck Shinawatra and her brother Thanksin Shinawatra - ousted in 2006 - against the the royalist establishment and Bangkok's middle class.
In January, the Thai government declared a 60-day State of Emergency in Bangkok, which was widened to include the surrounding areas.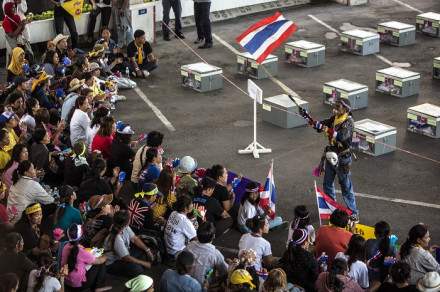 At least 21 people have died since anti-government protests began in November. In February, violent clashed resulted in three deaths and more than 50 injured. No foreign tourists have been killed.
The main protest site is at Lumpini Park, with smaller sites at Ratchadamnoen, the government buildings at Chaeng Watthana, outside Government House and the the Ministry of the Interior building. Some streets have been closed off to vehicles.
Voting in the general election in February was blocked in 438 of Bangkok's 6,671 polling stations or in nine provinces in southern Thailand.
The FCO has travellers to avoid protests, political gatherings and marches and to give themselves extra time to get to the airport.
Risk of terrorism
Attacks have become an almost daily occurrence in the far south of the country. Since 2004, targets have included civilians, government offices, the security forces, tourist hotels, bars and shops. Transport has also been targeted. More than 3,500 people have been killed and thousands more injured.
Martial law is still in place in Pattani, Yala, Narathiwat and Songkhla. Security forces are able to detain suspects without charge, censor the media, conduct searches and seize documents.
According to Thawatchai Arunyik, the governor of the Tourism Authority of Thailand, tourism has been hit hard by the protests, with up to a million visitors lost while the troubles continue.
He told the Bangkok Post: "Many tour groups from China, Japan, Hong Kong and Vietnam do not want to come to Thailand. We estimate that we will lose up to 900,000 visitors during the first half of this year."
A Tourist's Friend Centre has been set up with offices at the Sport Authority of Thailand in the Bangkapi district of Bangkok, Suvarnabhumi and Don Mueang airports, four BTS Skytrain stations (Siam, Phya Thai, Ekkamai and Wong Wian Yai) and Hua Lampong MRT station. The telephone number is +66 (0)2 314 1212, which is open 24 hours and is staffed by English speakers.