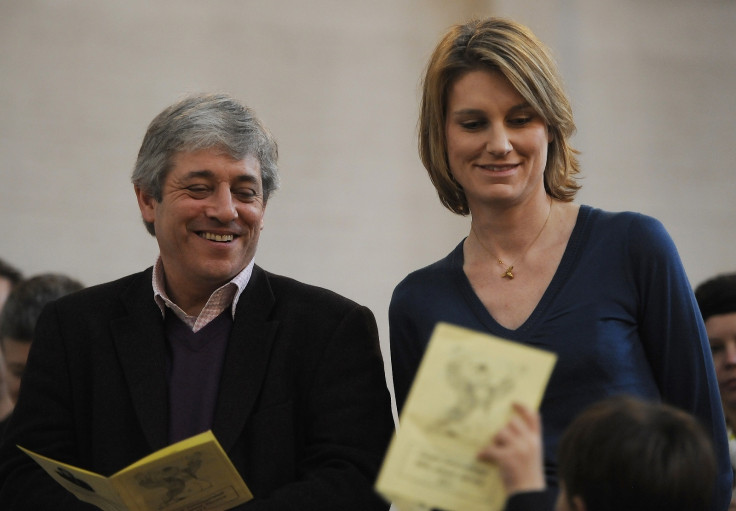 Sally Bercow has been attacked as a heartless narcissist and "media whore" by the wife of Speaker John Bercow's married cousin with whom she had an affair.
The Speaker's wife, 45, admitted that she had been unfaithful with Alan Bercow, 57, a lawyer, and "just didn't know" whether she would be able to be reconciled with her husband, John, 52.
"I will always love him, regardless of what happens," she said. "He's a great man and I wish him well and we will always be friends, I hope."
Earlier Erica Scott-Young, Alan Bercow's wife, took a swipe at Bercow's claim that she was "f***ing heartbroken", saying: "I think you have to have a heart to have it broken." She told the Daily Mail that she "never liked" Sally or John Bercow.
Scott-Young, a tax specialist at PricewaterhouseCoopers, said: "I'm a lawyer, I deal with US tax, I'm not interested in being a media whore. I've a good job, I have a son, I have a husband and I've always been brought up to do the right thing.
"Alan is home... and I'm sorry but I just find this all very distasteful and I really don't want to make any more comments to feed this woman's ego and narcissism. I'm not going to put any blame on anyone. I wasn't a party to it."
She said she would now seek to repair her marriage "People actually work hard at fixing whatever fractures were in their marriage and they move on," she said. "When you've got children it's your duty as a parent to put them first and to not, you know, sell your soul to the media."
Responding to Ms Scott-Young's comments, Sally Bercow - who has appeared on Celebrity Big Brother - said she understood she was "bitter", but wished that "she wouldn't stoop to hurling insults".
She added that the lawyer was adding "fuel to the fire" by talking to the press. "She says she doesn't want to be a media whore but she's the one whose talking to the media and prolonging it and I don't understand why.
"I'm really sorry for the pain I've caused her but it does take two to tango, you know. I don't know why she should be turning her fire just on me. Alan Bercow is the luckiest man in Britain really because he's proved consistently he can do whatever he wants and she just sucks it up. She's a saint."
Bercow said she would not be returning to Mr Speaker's residence in the Palace of Westminster.