Sam Bailey has been crowned the winner of The X Factor 2013.
The bookies favourite, Bailey has become the tenth person to take the title.
While some might say it was a forgone conclusion from the start, the 39-year-old looked overwhelmed as the news sunk in.
With show host Dermot announcing the winner, Bailey said of runner up 17-year-old Nicholas McDonald: "I love that boy to pieces and he needs to get an album out."
The winning judge for the first time Bailey's mentor Sharon Osbourne fell to her knees on hearing her act's name announced by O'Leary as the show's winner.
Magnanimous in defeat McDonald said: "If I was gonna be beat by anyone, it was gonna be Sam and she was a hard one to beat. I'll have an album out and I'll see everyone on the tour," he added.
39-year-old Bailey has won over audiences and won hearts, with near faultless performances week after week. In a matter of mere months, the prison officer from Leicester transformed into a singing sensation before our very eyes.
Seeing the cover of her winner's single SkyScraper she said: "I look thin. Oh my God I can't believe this. Thank you so much everybody."
Her first performance of the song reduced both Osbourne and Nicole Scherzinger to tears. The singer has been consistently brilliant, rarely facing even the slightest criticisms from the judges since her first audition.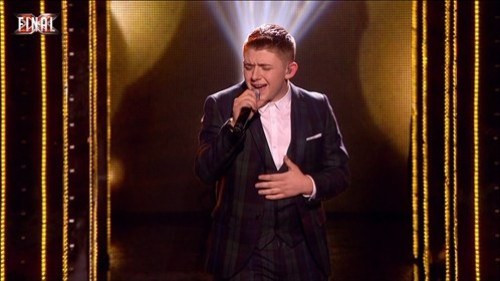 After her performance of her own favourite song of the series, Jennifer Rush's Power of Love, battling to be heard midst the roar of the cheering crowd Gary Barlow summed it up saying: "For me you could have sung any song because every performance has been amazing."
Nicole Scherzinger said of the mother of two: "You are a beacon of light and so empowering for women out there," while an elated Louis Walsh added: "You are what this show is about, that its never too late to live your dreams.That voice is a gift from god and you are the voice.Timing is everything and this is your time right now."
Bailey's mentor Sharon Osbourne paid tribute to her act and commented on their close friendship. "In 10 weeks look where you've come and I tell you you were a winner for me the first day you walked into that audition. You are my friend forever."
But perhaps the most important affirmation came from Bailey's son Tommy who declared: "Mummy's going to win. She's got the X Factor."
Describing the experience of singing before 10,000 people Bailey said: "This is my home. I want to set up a tent and stay here. Thank you everyone for all your support. It's been a roller coaster and I couldnt have got through it without all of you."
With show host O'Leary revealing that Bailey had received 1 million votes from the audience, Bookmaker Coral said on Sunday night that she has cost the UK's bookmakers more than £1 million after being the "most backed contestant in the history of the show".
Following the win Sam Bailey will see the release of her winner's single SkyScraper, followed by The X Factor tour next year. As well as a £1 million record deal, she will also be the support act for Beyonce on her Mrs Carter Tour next year.
The live final also featured performances by Katy Perry, One Direction, Elton John and Gary Barlow.