Six Men Arrested After Sam Sodje is Secretly Filmed Admitting to Match-Fixing
Three Arrests after Match Fixing Claim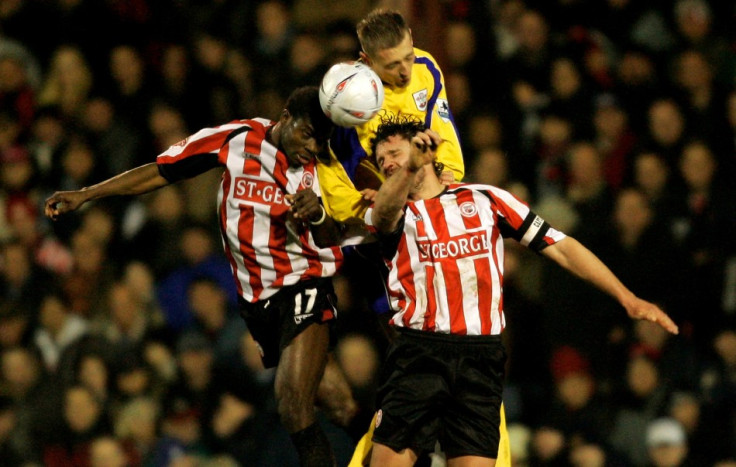 Six men have now been arrested by police following claims of match-fixing.
The arrests came after ex-Portsmouth player Sam Sodje, was secretly filmed by an undercover reporter for the Sun on Sunday, describing how he was paid £70,000 to get a red card in a League One game.
The incident occurred during a match against Oldham last season, when in an apparently unprovoked outburst, Sodje twice lashed out at another player, and was sent off in the 50th minute of the match.
The 34-year-old was also filmed saying that he had arranged for another player to be paid £30,000 for getting a yellow card in a Championship match.
The former Nigerian international bragged that he could rig Premier League matches for betting fraudsters and was prepared to fix matches at next year's World Cup. He claimed he could set up a bet an entire week before a game saying it was "easy."
In a statement from Portsmouth Football Club, spokesman Colin Farmery said: "If these serious allegations are true then we are extremely shocked and saddened by them, as match-fixing of any type goes to the heart of the integrity of the game.
"The player in question no longer plays for the club and we have not been contacted by the authorities, but of course we would co-operate fully with any inquiry."
Sodje's brother Akpo, a striker at Tranmere Rovers, had also said he would be prepared to be paid to be booked.
Tranmere Rovers FC said: "Tranmere Rovers Football Club are aware of Sunday newspaper allegations regarding Akpo Sodje. As this is an ongoing investigation the club will make no further comment at this time."
The Sun on Sunday also reported that Oldham player, Cristian Montano, apologised to Sodje after failing to get a yellow card in the first half of a match against Wolves on 22 October.
Oldham Athletic reacted to the allegations in a statement saying: "Oldham Athletic Football Club has been made aware of the incident and allegation surrounding one of its players, Cristian Montano. The club will commence an immediate internal investigation to establish all the relevant facts of the case.
"The club is co-operating with other agencies in this matter and cannot comment on specific facts at this stage. The club will not be issuing any further statements at this time."
Former Oldham player and manager Andy Ritchie told BBC News he was "dismayed" at the allegations.
"They are only allegations at the moment but if you're sent off in a game you're letting your players down, you're letting the team down because more often than not 10 men lose a game of football.
"If you're in a tough situation, maybe a relegation dogfight, you could lose those three points - that could cost you a place in that league. Football is a game of integrity," he added. "I would never have ever thought it could happen."
The National Crime Agency, which is investigating the claims, said: "An active investigation is now under way and we are working closely with the Football Association and the Gambling Commission."
A spokesman from the Football Association said: "The FA is aware of the National Crime Agency investigation and is working closely with the NCA and other authorities. We will make no further comment at this time."
The six people being held by police have not been named.
This is the second NCA investigation into alleged international betting syndicate. Earlier this week, non-league footballers Michael Boateng and Hakeem Adelakun who play for Whitehawk FC were charged with conspiracy to defraud.
© Copyright IBTimes 2023. All rights reserved.