A couple have been sentenced for selling "useless" devices to police and security services around the world which they claimed could locate bombs and missing people.
Sam Tree and his wife Joan were convicted of fraud after claiming the homemade "substance detectors" could detect drugs, explosives and people despite being nothing more than plastic boxes with a handle and antennae.
Sam Tree, from Dunstable, also claimed the dud devices could help track down Madeleine McCann.
The "Alpha 6" detectors, which were created in the shed of the Trees' Bedfordshire home, were sold on to third parties. It is believed the couple made as much as £80m from the scam.
Police said the devices were distributed to countries such as Thailand, Mexico and Egypt and the fraudulent bomb detectors may have been responsible for a number of people's deaths.
Sam Tree was sentenced to three-and-a half years in jail after being found guilty of making an article for use in a fraud between January 2007 and July 2012.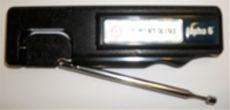 His wife was given a two-year suspended prison term and was ordered to carry out 300 hours unpaid work after being convicted of the same offence.
Upon sentencing at the Old Bailey, Judge Richard Marks QC told the pair: "The aerial would point to the vicinity or direction of the objects or person being looked at. One only has to look at the facts to see this as a bizarre and fantastic proposition as to be almost akin to something out of Alice in Wonderland."
Detective Constable Joanne Law, who led the investigation for the City of London Police's Overseas Anti-Corruption Unit, said the couple were driven by "personal greed".
She added: "The devices cost the couple only a few quid to make but were being sold on by agents for prices ranging from several thousand to half a million pounds, despite the fact they were nothing more than plastic boxes with a handle and antennae.
"The sentencing of the Trees is the concluding act in a highly complex investigation into a global criminal network, which over a 10-year period turned-over up to £80m. Thousands of false substance detectors were produced and sold putting both the users and the people they were bought to protect in grave danger.
"The demise of these individuals sends a strong warning to anyone else who believes they can make criminal capital abroad while trading off the good name of British business."​
The sentence arrived more than a year after businessmen Gary Bolton was jailed for seven years for selling fake bomb detectors to countries such as Hong Kong and Saudi Arabia, pulling in more than £45m while doing so.
The so-called "GT200" device, also known as the Mole, turned out to be nothing more than antennae glued onto an empty box.
Bolton had worked with the Trees after being hired by the couple after meeting at an arms conference.​