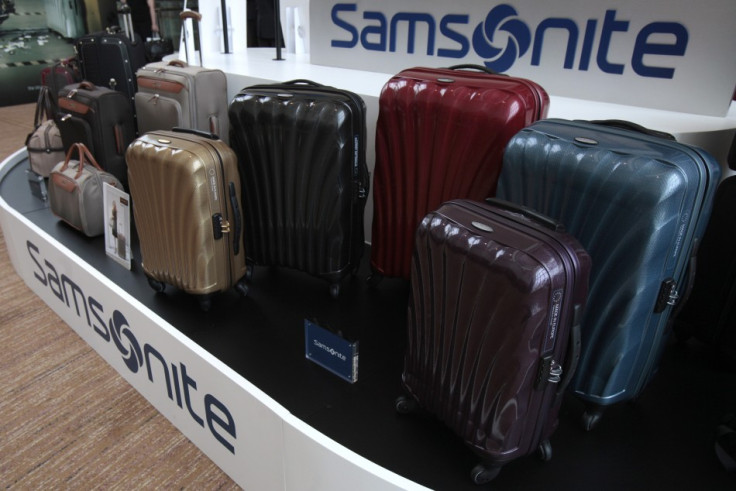 Samsonite, the world's biggest luggage maker, is pulling out 250,000 cases of Tokyo Chic, part of its American Tourister range, following allegations of presence of carcinogenic chemicals in its handles. The brand was sold in the UK through online retailers.
However, the Mansfield, Massachusetts-based company maintained that the suitcases are absolutely safe and the recall is to ensure consumer confidence.
"Despite our absolute conviction that the Tokyo Chic luggage is completely safe, we have today removed Tokyo Chic luggage from our stock everywhere it is sold in order to immediately replace the side-carrying handles with new generation handles," said Ramesh Tainwala, president for Asia-Pacific and the Middle East in Hong Kong, on Tuesday.
According to Tainwala, the replacement of the handles with the new generation handles is expected to cost the company not more than $500,000 (£317,895). The company expects a week's time to replace the handles.
Hong Kong's Consumer Council earlier said that it had found presence of high levels of chemicals that may be carcinogenic in parts of the suitcases. The tests were organised by the International Consumer Research and Testing, a global consortium which conducts safety tests on a wider range of consumer products.
The consumer products watchdog reported the presence of excessive levels of Polycyclic Aromatic Hydrocarbons (PAHs) in the handles of four samples of the Samsonite's luggage carriers in its monthly publication Choice magazine. The Council said one of the samples recorded PAHs level exceeding the limit by around 1,800 times.
The quantity was well above the limits prescribed by a German voluntary labelling scheme.
PAHs are found in oil, coal and tar deposits and are a byproduct of fuel burning. They also occur when meat products cooked in high temperatures such as grilling, barbecuing and in smoked fish.
Tainwala called the Council report as "irresponsible" and said it was based on isolated data. However, according to a Bloomberg report, the Council said the tests were according to objective standards.
"Whether they decide to pull their products or not is their decision. The most important thing about our test report is to educate the public," Bloomberg quoted Christina Wong, a spokeswoman for the council, as saying.
Though the company said the recall would not have any significant impact on its sales, Samsonite's shares fell 16 percent in the Hong Kong stock exchange on Friday following the announcement of the Consumer Council.
Samsonite recalled its Tokyo Chic line from Hong Kong shelves on 18 June. Tokyo Chic line of the brand accounts for less than one percent of Samsonite's global sales.