Samsung Display showcases a 360 degrees-folding phone hinge that might debut on the Galaxy Z Fold 5
Samsung Display unveiled a folding phone hinge that rotates 360 degrees but it is unclear whether this display will debut on the upcoming Galaxy Z Fold 5.
Samsung has been at the forefront of the foldable phone segment for quite some time now. So, the Korean smartphone giant understandably spares no effort when it comes to retaining its position in the market.
In line with this, Samsung Display has now shown off a new prototype display. The most notable feature of this recently unveiled display is that it can rotate 360 degrees.
To those unaware, Samsung Display is the Korean tech giant's subsidiary that focuses on making screens, The newfangled prototype display and hinge were shown off during CES 2023.
You can rotate this "Flex In & Out" display 360 degrees. In other words, the screen folds both inwards, as well as outward. Samsung's spokesperson John Lucas shared this shred of information with The Verge via an email.
Notably, this display adopts an all-new water-drop hinge design which reduces the crease visibility. The one-of-a-kind hinge enables the display to make a looser shape when folded inward.
Moreover, the water-drop hinge does not put as much stress on the display as a standard hinge does. To recap, Samsung Display showcased this Flex In & Out prototype at last year's IMID (International Meeting for Information Displays) in Korea.
However, Samsung Display adopted a different approach at the time. The display featured multiple segments and formed an "S" shape when folded. The current-gen Galaxy Z Fold series uses displays that fold flat in only one direction.
The word on the street is that the Galaxy Z Fold 4 successor will sport a display with less visible crease since it has a similar hinge design. So, it will be interesting to see whether the long-rumoured Galaxy Z Fold 5 will feature this new screen.
As a result, Samsung will be finally able to get rid of the Galaxy Z Fold 4 and Galaxy Z Flip 4's "U" shaped hinge which creates a visible crease. Aside from this, it will enable the Galaxy Z Fold 5 to compete with the third-gen Motorola Razr and Oppo Find N2, which have fewer creases.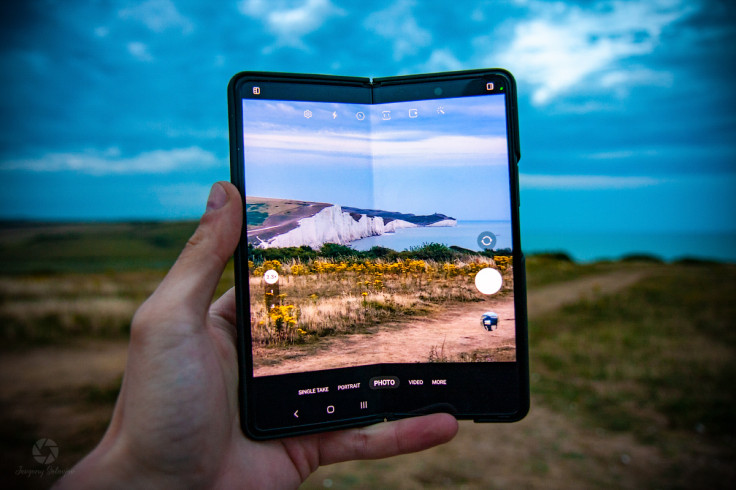 © Copyright IBTimes 2023. All rights reserved.