Move over fingerprint and iris scanners. Going by Samsung's latest patent application, the Korean giant could in the near future roll out a unique biometric authentication for its smart watches that will sense the user's vein structure and pulse.
In a patent filed to the United States Patent and Trademark Office, Samsung describes a system in which light sensors in collaboration with a camera sensor can track a user's vein structure, with the capability to also detect the user's pulse. As both of these are unique to individuals like fingerprints, only when the user wears the watch can it be accessed.
The patent also indicates that the assisted software with such technology could also offer custom contact lists and ringtones upon identification of the user. The system could also find user authentication applications such as access control.
The application and function will be just like a fingerprint scanner where an initial reading will be stored to the user profile, which will be used to authenticate oneself in the future. Samsung may use infrared-based technology for this feature as it can identify the unique characteristics of one's vein.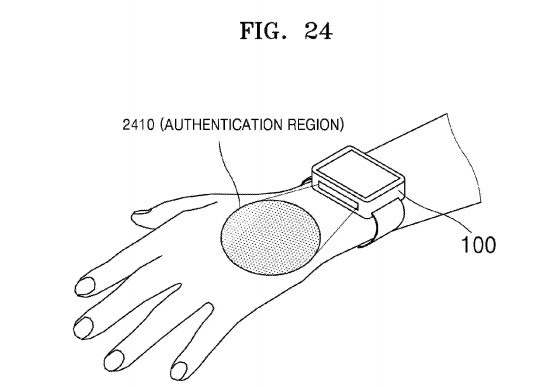 As shown in the patent diagram above, the camera sensor mounted on the forward edge of the watch will scan the round area shown on the back of the user's hand and record the structure of the veins. It will store this image of the vein and then compare it each time an authentication attempt is made.
Previous patents from Samsung have even suggested using one's heartbeat as an authentication tool.