One of the two tablets unveiled by Samsung at 2012's MWC, the Galaxy Note 10.1, is the first commercial tablet that promises to actually work as a graphics tablet. Below are our opening impressions.
Tech Spec
In terms of tech spec, as was the case with its sibling the Galaxy Tab 2, the Note 10.1 is a dual-core affair. Packing a 1.4GHz dual-core processor, the Note is not going to be as nippy as Huawei's 10-inch MediaPad.
Backed up by a 2-megapixel front facing snapper, the 3-megapixel rear facing camera - despite having auto-focus and LED flash is similarly underwhelming compared to what we'd hoped.
The one bit of tech we did like was the inclusion of a Li-ion 7,000mAh battery - which should translate to an impressive battery life.
In short, while the unit was nippy and a marked improvement over its predecessor's single-core processor, the unit didn't initially feel as cutting-edge as we'd have liked; that is until we began playing with the S Pen.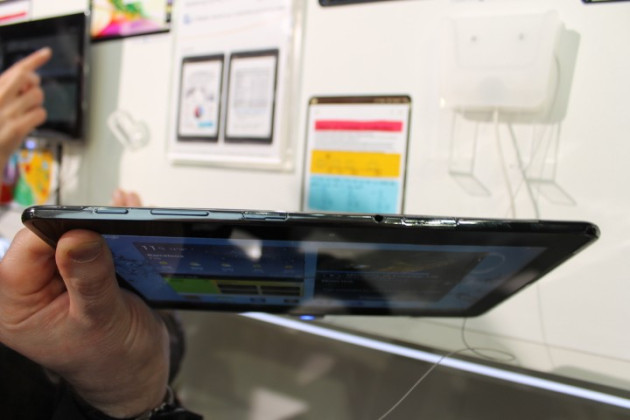 Operating System and Software
Running off Google's latest Android 4.0 Ice Cream Sandwich, we noticed several key app additions that will set the Note 10.1 apart from other tablets, chief of which was the inclusion of Adobe software.
As well as Samsung's own special home made set of apps and features - Services Samsung TouchWiz / Samsung L!ve Panel, S Pen Experience (S Note, S Planner), Samsung Apps and Samsung Hub to name a few - the Note 10.1 comes with Adobe Apps, Photoshop Touch, Adobe Ideas and Polaris document editor.
While this may not be a big deal to many people, to the International Business Times UK - which is naturally full of ex-artists - it was awesome. The apps we tried allowed us to edit photos and create original works of art using the S Pen. This included the full use of layers, filters and 90 percent of the other image manipulation features any artist would want. Playing with the S Pen creating art, we truly got the impression the unit could be used to make a decent landscape or quickly edit photos on the fly.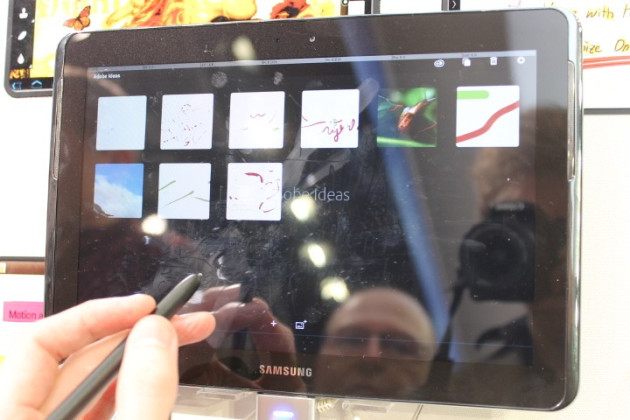 Look and Feel
The look and feel of the device suitably matched the idea of using the tablet creatively. Packing a 10.1-inch screen and measuring in at 256.7 x 175.3 x 8.9mm, the unit is big enough that we didn't feel hindered using the S Pen. Additionally, weighing in at 538g, while far from handbag-sized, the Note 10.1 did feel like it could be used on the go.
Availability and Price
Unfortunately, Samsung is yet to release any solid details about the Note 10.1's price or release date past a nebulous statement that "Availability and launching time of the services may differ by region."
Check back at the International Business Times UK later in the year for a full review.