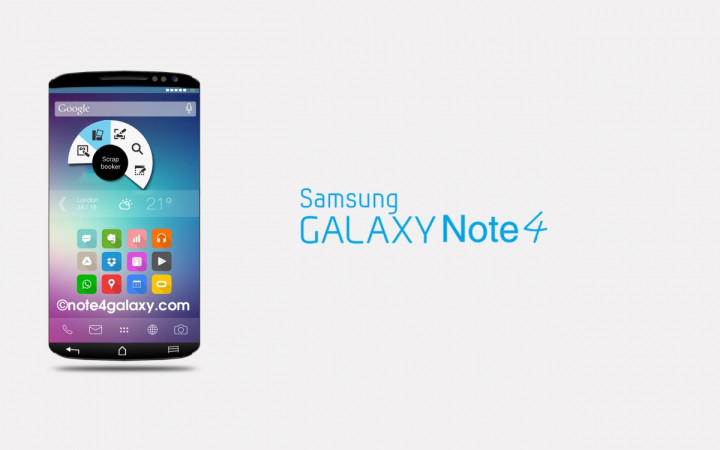 The last quarter of the year is only a few months away and Samsung is preparing to launch its successor to Galaxy Note 3, the Galaxy Note 4. Here is everything we know about the phone so far.
Release Date
Given that Samsung follows an annual release pattern for its flagship smartphones, we expect the Note 4 to be released in September 2014.
Design
While a Samsung official said in April that the device would get a brand new form factor, he did not offer any details. Reports speculate that it could be a three sided display as Samsung had applied a patent for it back in April.
Specs
Like Note 3, Note 4 is expected to have the best specifications available in market. This means that it could pack the Qualcomm Snapdragon 805, which has a 2.7Ghz Quad Core CPU, Adreno 420 GPU, and is 4K ready. The handset is expected to have 3GB of RAM. It will also house a fingerprint reader, among other things.
Display
While there is a lot of speculation when size is concerned, the Note 4 will have a QHD AMOLED display with a 2560 x 1440 resolution, so that it can compete with the one on LG G3. This means that it will have eccentric contrast ratios and other typical Samsung display traits. All in all, expect an extremely vivid and sharp display.
Camera
A reliable source has confirmed that the Samsung Galaxy Note 4 will have strong imaging capabilities, thanks to the 16MP OIS rear camera module manufactured by Sony. However, the front end will remain unchanged with a 2MP sensor as in the S5.
Samsung VR
While rumours have suggested that Samsung could pair its virtual reality technology headset with the Samsung Galaxy Note 4, there is little evidence to support this at the moment.
Water-Resistance
Samsung has started following Sony's habit of making its smartphones water-resistant. After the Samsung Galaxy S4 Active and the Samsung Galaxy S5, reports indicate that Note 4 is the next phone that to have this feature.
Launch With Gear 3
Reports quoting industry sources say that the Note 4 will be launched with Gear 3, like Note 3, which was launched with the original Galaxy Gear.
"Samsung is working on the next generation of the Samsung Gear 2, and it will be sold in a bundle package with the upcoming Galaxy Note 4," a source said.
Operating System
There is a very good chance that the handset will come loaded with Google's latest version of Android as the launch will be after the Google I/O conference. Expect something on the lines of Android 4.5 Lollipop.
Price
While there is no specific information on pricing yet, it is widely believed that Note 4 will carry a launch price similar to that of Note 3's price tag during launch.