Key Features:
8in display with 800 x 1280 resolution, 189 pixels per inch (ppi)
Quad-core 1.6GHz processor with 2GB RAM
16/32GB storage plus microSD card slot
Android 4.1.2 Jelly Bean
Included S-Pen stylus
Price as reviewed: £339 (16GB, Wi-Fi)
Introduction:
Joining the 10.1in Note tablet and 5.55in Note smartphone, the Note 8.0 offers a bit of both, with a display small enough to be held in one hand combined with a device that can - in 3G guise - make and receive phone calls and send texts like any other smartphone.
Samsung is king of creating a screen size for absolutely everyone, but far from getting lost in the crowd, the 8in Note makes a lot of sense, rivalling the 7.9in iPad mini and 7in Google Nexus 7.
Factor in the Note's quad-core processor and integrated S-Pen stylus, and Samsung has produced a tablet which promises to be as portable as it is productive.
Look and Feel
Continuing the tradition of shiny white plastic with a fake metal band around the edge, it's clear that the Note 8.0 comes from the same family tree as the Galaxy S3, S4, Note 2 and Note 10.1.
Although I'm not a huge fan of Samsung's obsession with glossy plastics - they feel much cheaper than the aluminium HTC One and iPad - I can at least respect the South Korean company for producing a device that is attractive and fits in neatly with the company's lineup. Anyone who's used a Samsung in the last year will feel right at home with the Note 8.0.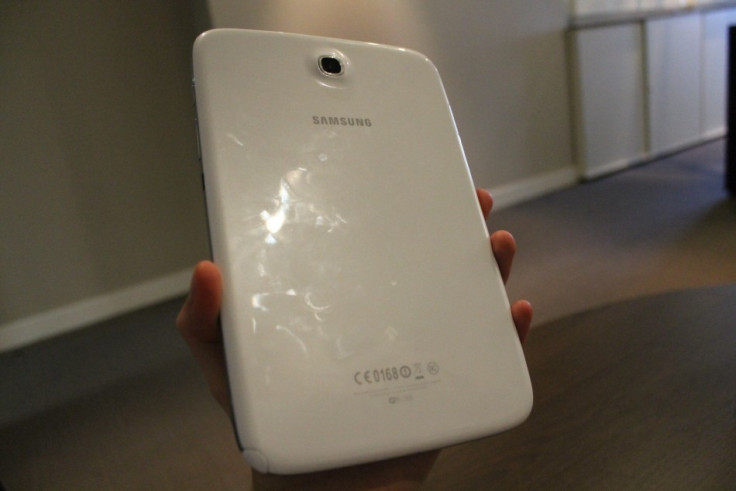 At 13mm wide, the Note 8.0 can be held in one hand, making it more useable on the move compared to the larger Note 10.1, and at 338g it's light enough to remain comfortable.
Above the screen there's a 1.3-megapixel front-facing camera (along with an earpiece on the 3G model), and below there's the standard-issue Samsung Home button flanked by illuminated capacitive touch buttons for Menu and Back. Unlike the Note 2 smartphone, these respond to touches from the S-Pen stylus.
Speaking of which, the stylus is the same as you find on the Note 2, meaning its Wacom hardware, has 1,024 levels of pressure sensitivity and slots into the lower-right corner of the device.
The bottom edge is home to a microUSB port and dual speakers, on the right there's an IR blaster for controlling compatible televisions and home cinema equipment, next to a volume rocker and screen lock button. The left edge has a microSD card slot (up to 64GB) and there's a headphone jack at the top.
Finally, around the back Samsung has installed a 5-megapixel camera with autofocus and 720p HD video recording, but no flash.
Screen
The Note's 8in screen has a resolution of 800 x 1280. This is slightly higher than the 768 x 1024 resolution of the iPad mini, but it would be fair to say that neither tablet offers ground-breaking pixel density, and both are prone to slightly jagged text, especially in the smaller icons of applications.
Not being pin-sharp like the Galaxy S4 or iPhone 5 isn't the end of the world though, and it's surprising how quickly your eyes adjust to different resolutions. Being a TFT panel, the Note's screen produces more accurate colours than the artificially vivid and heavily saturated shades offered by the AMOLED screens of the Galaxy S4 and Note 2.
Where the Note 2 feels like an uncomfortably large phone and the Note 10.1 feels too big to be held like a tablet should, the Note 8.0 is the Goldilocks of the range, with a screen that is large enough for watching films and scribbling down notes, but small enough to be held in one hand or even slipped into a jacket pocket.
Much like the iPad mini and those magazines that are smaller but otherwise the same as the regular edition, the Galaxy Note 8.0 feels somehow better, despite offering exactly the same interface and features as Samsung's larger tablets.
Software, Performance and Battery
The Note 8.0 runs Android 4.1.2 Jelly Bean but, as with all recent Galaxy products, Samsung has smothered the entire operating system with its Touchwiz user interface, adding new icons, apps, wallpapers and some of the most annoying bleeps and bloops ever to be emitted by a tablet.
Thankfully the noises can be turned off and once you've installed Chrome and Android's stock email and calendar apps from the Google Play Store, the operating system is fine.
Separating the Note range from its Galaxy S counterparts is the S-Pen, and with this comes a range of extra apps. Take out the stylus - an action joined by a noise and vibration - and the home screen offers up 10 templates for jotting notes, making a birthday card, writing a recipe, designing a magazine, and more.
There's nothing groundbreaking here, but it's clear with this and other Note models that Samsung has put thought into how customers want to use a tablet stylus. Leaning on the screen with your wrist will not affect writing or drawing, as the software knows to ignore such accidental inputs.
As with previous Notes, the S-Pen can also be used to cut out screenshots and hovering the stylus slightly above the screen shows you previews of emails, text messages and video.
Finally, the Note 8.0's 4,600mAh battery is slightly larger than the iPad mini's power source and is good for two full days of heavy use before running dry. During less intensive use I found it to be on par with my iPad mini.
Verdict
Over the past year I've complained numerous times about Samsung's current house style, and I'm still not completely sold on its over-reliance on shiny plastics, but with the Note 8.0 I feel Samsung is closer than ever to making the look work.
What's more, in a world where tablets are ridiculed for being consumers not creators, Samsung is pushing the Note 8.0 at a creative audience. Holding the larger 10in Note in one hand and the stylus in another felt awkward, while the Note 2 smartphone is slightly too small to write more than a few words at a time.
As I said above, the Note 8.0 is Samsung's Goldilocks tablet, fitting neatly between the two and offering a successful compromise. Holding the cellular version up to your face will of course make you look ridiculous, but a handsfree kit will save your blushes and once it does you've got an impressive all-in-one device that will last all day.
At more than £300, the Note 8.0 isn't cheap for a mid-size tablet, especially when the £269 iPad mini has a more premium construction and far superior application store, but if Android is your thing and you want a tablet that isn't resigned to the coffee table, the Galaxy Note 8.0 could be for you.
Scores:
Screen: 8/10
Design: 7/10
Operating System: 7/10
Build Quality: 8/10
Overall: 8/10
The Good:
Light and comfortable to hold in one hand
Fast and powerful, with good battery life
Cellular option makes it a true all-in-one device
The Bad:
Average screen resolution
Play Store still lacking tablet apps
More expensive than the iPad mini