As expected, Samsung officially announced the 8in Galaxy Note at the Mobile World Congress event in Barcelona. The company is yet to announce the pricing details but promises that the device will hit the global market from second quarter of this year.
The Samsung Galaxy Note 8.0, which sits between second generation Galaxy Note and the Galaxy Note 10.1, like the other Galaxy Notes in the family bundles S Pen functionality. One of the key features of the tablet is that it will allow users to make and receive phone calls.
In addition to that, the Jelly Bean powered Galaxy Note 8.0 brings several features including Smart Stay, Direct Call, Page Buddy, AllShare Play, AllShare Cast and S Pen optimised features such as Air View, Popup Note.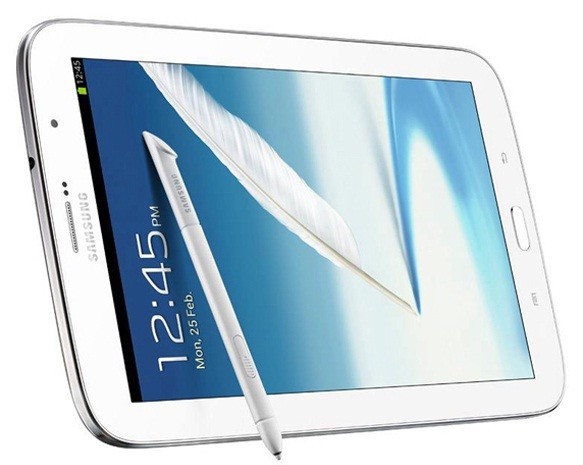 Here is how Samsung Galaxy Note 8.0 goes against Google's 7in Nexus branded tablet, Nexus 7
Galaxy Note 8.0 vs Nexus 7: Display
Samsung's new Galaxy Note, as its name suggests, features an 8in (800 x 1280 pixels, 189ppi) display. This is slightly disappointing considering the fact while company's new devices such as Galaxy S3, Galaxy Note 2 boast with Super AMOLED display, the new Note features a TFT display.
But what is interesting is the resolution of Note 8.0 matches to that of the Galaxy Tab 7.7 (196ppi) which is a popular Galaxy tablet and features higher screen resolution compared to all other 7in tablets by Samsung. There is a marginal difference between the pixel densities of both the tablets.
Google's Nexus branded tablet, in contract, features a 7in HD IPS display, having similar screen resolution like the Note 8.0. The pixel density of Note 8.0 is reasonably higher than all the 7in rival tablets, at 216ppi. An IBTimes UK review suggests that the Nexus 7 with such higher pixel density delivers sharp and clear viewing experience.
Followed by the announcement of Nexus 7, Anandtech conducted a series of display tests wherein the Nexus tablet performed fairly well sometimes beating Apple iPad 2, ASUS Transformer Prime, Amazon Kindle Fire, the 11in MacBook Pro and few more high-end tablets.
Galaxy Note 8.0 vs Nexus 7: Dimensions
Considering the physical dimensions, the Note 8.0 is slightly wider as well as larger than the Nexus 7. But Samsung Galaxy tablet is quite thinner compared to Google's Nexus tablet, featuring a thickness of 7.95mm only. The tablets are of almost similar weight.
Galaxy Note 8.0: 210.8 x 135.9 x 7.95mm and 338g (3G version)
Nexus 7: 198.5 x 120 x 10.45mm, 340g
Galaxy Note 8.0 vs Nexus 7: Operating System
The Note 8.0 will run on Android 4.1.2 (Jelly Bean) software once it comes out of the box.
The Nexus 7 is the first device to run on Android 4.1 (Jelly Bean). The latest version of Android operating system brings several improvements including revamped User Interface (UI), better notifications system and home screen management, an improved voice search, text input with offline voice typing, camera and enhanced Android Beam app. At present the tablet is running on the Android 4.2.2, which Google recently released for its Nexus devices fixing bug issues found in the previous build.
Galaxy Note 8.0 vs Nexus 7: Processor and RAM
The Note 8.0 uses Samsung's own Exynos 4412 System-on-chip (SoC) featuring a quad-core Cortex-A9 processor, with each core running at clock speeds up to 1.6 GHz. The Exynos 4 chip features ARM's Mali 400MP4 graphics unit.
This is the same processor that powers Samsung's third generation Galaxy S series smartphone-Galaxy S3 (1.4GHz), Galaxy Note 10.1 and second generation Galaxy Note (1.6GHz).
The Nexus 7 is powered by Nvidia's Tegra 3 chip featuring a quad-core processor (Cortex-A9) with ULP GeForce graphics unit. The processor runs at a clock speed of 1.2GHz. This quad-core processor is being used inside a number of high-end smartphones and tablets.
The Note 8.0 has 2GB of RAM as opposed to 1GB RAM of Nexus 7.
Galaxy Note 8.0 vs Nexus 7: Camera
The Note 8.0 has a rear-camera of five megapixel and front-camera of 1.3 megapixel.
Like the Galaxy S3, the front-facing camera of Galaxy Note 8.0 is equipped with the camera feature called, Smart Stay which recognises when the user is looking at the screen and locks when the user is looking away.
The Nexus 7, unfortunately, does not have a rear-camera and comes only with front-camera which is of 1.2 megapixels. The camera is designed for video calling and it can record video in 720p.
Galaxy Note 8.0 vs Nexus 7: Connectivity
The Note 8.0 offers 802.11 a/b/g/n (2.4 and 5GHz), Wi-Fi Direct and Bluetooth 4.0. The Note will be available in 3G and 4G LTE variants.
The Nexus 7 offers Wi-Fi 802.11 b/g/n and Bluetooth v3.0. Google's tablet is NFC enabled. The Nexus 7 was hugely criticised for not supporting 3G networks. Hence, Google has introduced a 3G version of Nexus 7 during the announcement of Nexus 4.
Galaxy Note 8.0 vs Nexus 7: Storage
The Galaxy Note 8.0 will come in two storage options: 16GB and 32GB whereas the Nexus 7 is available in three storage variants: 8GB, 16GB and 32GB. The key difference is that Samsung's tablet supports microSD card for storage expansion whereas Google's Nexus tablet does not have the storage feature.
Galaxy Note 8.0 vs Nexus 7: Battery
The Note 8.0 runs with a 4, 600mAh battery while the Nexus 7 is powered with a battery of 4,325mAh.