Even though just a few days are left for the 3 May event when the Korean tech giant will announce its next-gen Samsung Galaxy smartphone, rumours regarding the smartphone have not stopped. Instead more and more reports and leaked images are hitting the web and some even reveal the specs.
According to one report, the benchmark test results of Samsung Galaxy S3 have appeared online revealing the upcoming smartphone could be a real power-house, reports Techradar. The benchmarks test was hosted on GLBenchmark and the result reportedly shows the data of Samsung GT-i9300, which is said to be the model number of Samsung Galaxy S3.
The results of the benchmarks tests were taken down and a few screenshots of the results were obtained by the site, PhoneArena, which claims to have received those from a source that has not been disclosed.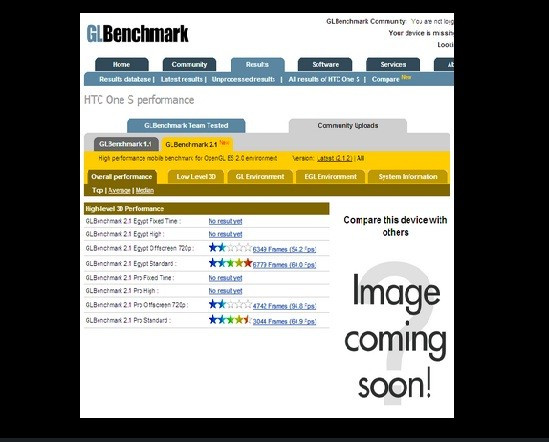 The benchmark test scores of Samsung Galaxy S3 when compared to HTC One X, Apple iPhone 4S and Apple's new iPad, throw up a surprise. The leaked results reveal that the ARM Mali-400 Graphics Processing Unit (GPU) in the upcoming device, Galaxy S3, which has clocked more than 400MHz provides much better performance when compared to the GPU packed in Samsung Galaxy S2. The GPU is expected to make the smartphone one of the fastest smartphones of the year, according to Android Authority.
Besides, the GPU in the Galaxy S3 is even powerful than the dual-core PowerVR GPU which the iPhone 4S is packed with. The Exynos processor and the Mali-400 GPU of galaxy S3 can even beat the HTC One X which is powered by Nvidia Tegra 3 quad-core and GeForce graphics processor.
The GPU of GT-i9300 Galaxy S3 reportedly performed better against Apple's new iPad which has the quad-core PowerVR GPU. The results show that Samsung's forthcoming Galaxy smartphone can be one of the powerful smartphones of the year and can beat handsets like HTC One X and iPhone 4S in terms of processor and graphics unit capabilities.
According to an IBTimes report that surfaced last week, the upcoming Galaxy S3 smartphone will feature a quad-core processor that will deliver "superlative benchmark performance". Though there was not much information about which particular chip the Galaxy S3 will pack, it could be the 32nm Cortex-A9-based Exynos. The Exynos chipset is believed to quicken processor, camera speed and enhance battery life.
MUST READ Apple iPhone 5 Release: In-Cell Tech, Liquidmetal Body And 3D Camera, Round-up Of Rumours And Specs
Apple iPhone 5 to Pack 'In-Cell' Touch Panel?
Samsung Galaxy S3 vs Huawei Ascend D Quad: Can Underdog Challenge Smartphone Giant? [VIDEO]