The Samsung Galaxy S5 could feature an all-new user interface and be launched as soon as Mobile World Congress in February, as new concept images appear online.
Yet to be announced by Samsung, the Galaxy S5 would be the South Korean company's new flagship Android smartphone, replacing the S4 which debuted at an event in New York in March last year.
Notorious - and often accurate - smartphone leaker EvLeaks posted a set of screenshots on Twitter claimed to be evidence of Samsung "exploring a new smartphone UI".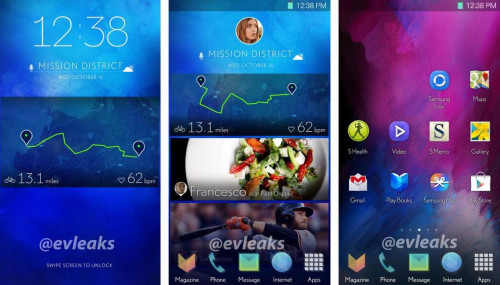 Although undeniably a good phone, when the Galaxy S4 launched it was criticised for being very similar to the S3 from a year earlier - little had changed in terms of hardware and software design; it would also make sense for Samsung to debut a new user interface on its most popular model first, before adding it to the rest of the Galaxy range.
The leaked screenshots appear to show an interface similar to the HTC One's BlinkFeed screen of news headlines and social media update; the images also show what appears to be a bicycle ride taken by the user, complete with heart rate. We image this will be collected by a second-generation Galaxy Gear smartwatch, or compatible fitness wristband.
A February debut at Mobile World Congress
The Galaxy S3 and S4 both arrived in the spring, but if a news report from Korean website iNews24 is anything to go by, the S5 could arrive as soon as next month, at the annual Mobile World Congress trade show in Barcelona.
iNews24 cites Samsung executive Dong-hoon Chan as saying rumours that the S5 will arrive at MWC are "about right", although Samsung has refused to comment on the story, saying it does not involve itself in rumour and speculation.
Leather and aluminium
Finally, a new concept image of what the Galaxy S5 could look like has surfaced online. The image shows an incredibly slim smartphone with an aluminium chassis and fake leather-effect back, as seen on the Galaxy Note 3.
An aluminium finish would go down well with consumers and reviews alike, who criticised both the S3, S4 and Note range for using glossy and cheap-feeling plastic when Apple and HTC opt for aluminium.
The concept image features a 5.25in curved display. Samsung is keen to push curved screens, as can be seen on the Galaxy Round and a range of televisions announced at the Consumer Electronics Show in Las Vegas this week.
For all of the latest Samsung Galaxy S5 rumours, leaks and news, check out our S5 page, which will be constantly updated until the phone is finally announced.