Samsung's Galaxy S3 was the UK's most popular smartphone (in November last year) and topped the chart for seven consecutive months from its release, beating other high-end smartphones such as Apple's iPhone 5 and Google's Nexus 4. Now, though, Samsung's Japanese rival Sony has a new kid on the block, the Xperia Z. How does the Galaxy S3 measure up?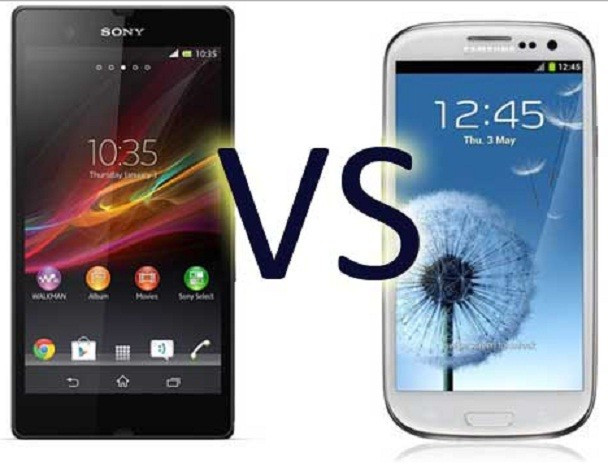 Galaxy S3 vs Xperia Z: Display
Samsung's flagship smartphone features a 4.8in HD Super AMOLED display, covered with Corning Gorilla Glass 2. The resolution of the display is 720 x 1280 pixels with pixel density at 306 pixels per inch (ppi).
Samsung claims the Super AMOLED display, enhanced with HD and 16:9 wider viewing angles, delivers a "large and vivid viewing experience". Although AMOLED screens once had issues including contrast shift and oversaturation, Samsung seems to have solved most of those in Galaxy S3, suggests a review by IBTimes UK.
The Sony Xperia Z, meanwhile, features a display slightly bigger than that of the Galaxy S3, at 5in. The full HD Reality display of Xperia Z, powered by Mobile Bravia Engine 2, carries a screen resolution of 1080 x 1920 pixels and pixel density at 443ppi.
The Reality display with high pixel density is said to provide sharp photos and brightness. Furthermore, the second generation Mobile Bravia Engine, Sony claims, delivers better viewing by adding "new real-time contrast optimisation to the sharpness enhancement, high quality colour management and noise reduction". The Bravia Engine 2 is able to analyse content type and adjust the image accordingly.
Galaxy S3 vs Xperia Z: Dimensions
The Xperia Z and Galaxy S3 are almost identical in terms of width. However, the Sony device is slightly larger and thinner, with a thickness of 7.9mm, compared with the Galaxy handset. As far as weight is concerned, the Galaxy S3 is approximately 13g lighter than the Xperia Z, weighing just 133g.
Galaxy S3: 136.6 x 70.6 x 8.6mm
Xperia Z: 139 x 71 x 7.9mm
Galaxy S3 vs Xperia Z: Operating System
The Galaxy S3 was launched with Android 4.0.4 (Ice Cream Sandwich), but received the Android 4.1.1 software upgrade in September last year and is now running on Android 4.1.2. Although the latest version of Jelly Bean (Android 4.2) has been released for some Nexus devices, Samsung is yet to provide details on the same update for Galaxy S3.
The Xperia Z, on the other hand, will run on Android 4.1 (Jelly Bean) out of the box. But Sony promises that the handset will receive the Android 4.2 upgrade shortly after launch.
Android 4.2 boasts an array of new features including a camera app called Photo Sphere, Gesture Typing, Daydream, enhanced Google Now, Google Search and Android Beam. It also adds support for wireless display which enables users to share movies, YouTube videos and other video and images on their TVs.
Galaxy S3 vs Xperia Z: Processor
The Galaxy S3 is powered by Exynos 4412 chip featuring a quad-core Cortex-A9 processor with each core running at clock speeds up to 1.4GHz, paired with Mali-400MP graphics unit.
The Galaxy S3 is Samsung's first smartphone to adopt the Exynos 4 quad application processor, which is built on the High-K Metal Gate (HKMG) low-power process technology. The processor, as claimed, possesses double the processing capabilities while consuming 20 percent less power than its predecessor, Exynos 4 dual. The Exynos 4 quad, according to benchmark tests, is a powerful processor.
The Sony Xperia Z uses a Qualcomm Snapdragon S4 Pro (APQ8064) chip featuring a quad-core Krait processor with each core clocked at 1.5GHz, and paired with Adreno 320 graphics unit. This is the same processor that powers LG's flagship, Optimus G.
The Snapdragon S4 Pro quad, according to benchmarks, is an equally powerful processor, which was first adopted in the Mobile Development Platform (MDP/T) for Android tablet.
The Xperia Z features 2GB of RAM as opposed to the 1GB RAM of the Galaxy S3.
Galaxy S3 vs Xperia Z: Camera
The Galaxy S3 has an eight megapixel rear-camera with technologies including auto-focus, LED flash, simultaneous HD video and image recording, face and smile detection, touch-focus, geo-tagging and image stabilisation. The camera can capture 1080p video at 30 frames per second (fps).
The handset also features a 1.9-megapixel front-camera, which is capable of HD video recording at 30fps. In addition, the front camera has a function called Smart Stay which recognises when the user is looking at the phone and locks when the user is looking away.
Both the front and rear cameras feature a technology called Zero Shutter Lag allowing users to capture images of moving objects.
The Xperia Z has a high resolution rear-camera compared with the Galaxy S3, at 13 megapixel with an Exmor RS mobile image sensor, which is claimed to be the first image sensor with HDR (High Dynamic Range) video for smartphones. HDR is an imaging technology used to capture clear photos against a strong backlight.
Other camera technologies include auto-focus, burst mode, face detection, image stabilisation, geo-tagging, smile detection, sweep panorama and touch focus. The device features a front camera of 2.2 megapixels. Both the cameras are capable of recording 1080p video.
Galaxy S3 vs Xperia Z: Connectivity
The Galaxy S3 offers Wi-Fi 802.11 a/b/g/n, dual-band, DLNA, Wi-Fi Direct, Wi-Fi hotspot, Bluetooth v4.0 with A2DP and EDR. It supports HSDPA data up to 21Mbps and HSUPA up to 5.76Mbps.
The Xperia Z offers Wi-Fi 802.11 b/g/n, Wi-Fi Direct, DLNA, Wi-Fi hotspot and Bluetooth v4.0 with A2DP. It also supports HSDPA and HSUPA data speeds.
Both Xperia Z and Galaxy S3 offer 4G network speeds and are Near Field Communication (NFC) enabled.
Galaxy S3 vs Xperia Z: Storage
The Galaxy S3 is available in two storage options, 16GB and 32GB whereas the Xperia Z comes in 16GB variant only. Both smartphones have microSD card slots for additional storage.
Galaxy S3 vs Xperia Z: Battery
The Galaxy S3 runs on a 2100mAh battery. According to a range of battery tests by GSMArena, the Galaxy S3 delivers talk-time up to 10 hours and 20 minutes, browsing time up to five hours and 17 minutes and 10 hours of video playback life. The Galaxy S3 can run up to 43 hours in a single charge.
During the announcement, Sony did not reveal any information on the power of the battery but has promised talk-time of up to 11 hours and standby time of up to 550 hours. The Xperia Z carries a new feature known as Battery STAMINA mode, which can improve the standby time by four times by automatically closing power hungry apps whenever the screen is off and starting them up again when the screen is turned on.
Galaxy S3 vs Xperia Z: Price
As far as pricing is concerned, the 16GB SIM free version of the Galaxy S3 is approximately £118 cheaper than the Xperia Z, which is priced at £528 (prices according to Amazon UK).