Samsung's next smartwatch will be controlled by a circular touchscreen and a rotating bezel to scroll through its software.
Information hidden inside the upcoming watch's SDK (software development kit) reveals Samsung's alternative to the Digital Crown on the Apple Watch will be a rotating bezel which spins around the outside of the wearable's 1.18-inch wide screen. The Samsung watch will also feature a crown made from the same metal as the case. Clearly, Samsung is taking a very different approach to its square-screened Gear smartwatches of old.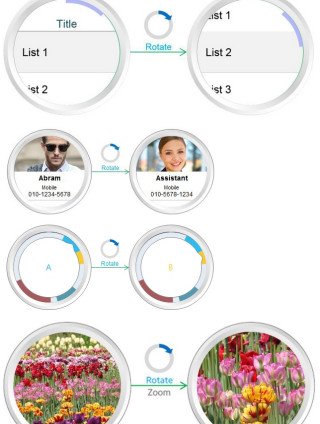 The watch - known by its codename, Project Orbis - will have a resolution of 360 x 360, meaning a pixel density of 305 per inch.
Inside, there will be a wide range of seconds including an accelerometer, gyroscope, heart-rate monitor, pressure sensor and magnetic sensor, along with Wi-Fi, Bluetooth, GPS and cellular radio, so the watch can make phone calls without needing a phone nearby.
Included in the SDK, detailed by SamMobile, is a huge number of screenshots showing what software on the watch will look like, plus diagrams explaining how rotating the bezel scrolls between home screens and through menu lists and the alphabet when entering text. As with the Apple Watch's Digital Crown, turning the Samsung's bezel also zooms in and out of images.
Although Samsung hasn't announced a release date for its next smartwatch, the clever money is on the IFA technology trade show in Berlin, which kicks off on 4 September.
In recent years, Samsung has hosted a media event in the same city a day before IFA, where it usually announces its latest Galaxy Note smartphone and wearables.