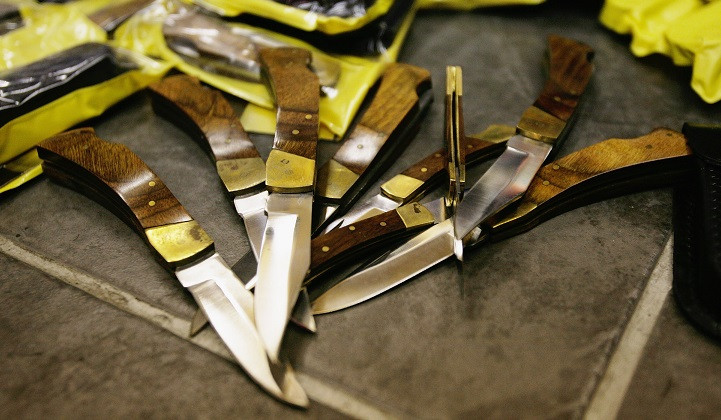 Children as young as five have had weapons seized from them in schools with pupils bringing in everything from axes to air guns, figures show.
Data from 32 police forces show that 2,579 weapons were seized at schools in England and Wales between April 2016 and the start of 2017, around 20% of which were knives, including samurai swords.
During that same tine period some 1,369 weapons were discovered, a spike of almost a fifth compared with the previous full year.
Some 26 guns, a police baton and a metal rod were also seized, according to the figures released to the Press Association under the Freedom of Information Act.
Chief constable Alf Hitchcock, who leads the task force on knife crime, said: "We have recently seen an increase in young people carrying knives and this is worrying.
"We are responding to this trend by targeting those who carry them illegally and working with retailers to reduce the sale of knives to underage people through nationally coordinated operations."
There were 47 children under ten found with weapons, including three five-year-olds, one of whom had a knife while another had a "missile".
There is growing concern about weapons in British schools, especially in light of the stabbing to death in 2014 of Spanish teacher Ann Maguire, 61, by pupil Will Cornick, who is serving a life sentence.
In 2015, Vincent Uzomah, was seriously injured when he was stabbed at Dixons Kings Academy in Bradford by a 14-year-old pupil.
Wider knife crime problem
There is also wider concern about knife crime among children and young people and follows calls earlier in May by police for more schools in London to install metal scanners and a general rise in knife crime among young people.
Elijah Dornelly, 17, died from stab wounds after an attack in a street in Walthamstow, north-east London on Sunday (7 May), only hours after attending a march against knife crime.
His death means that 15 teenagers and children have been killed by knives in the UK this year.
Geoff Barton, general secretary of the Association of School and College Leaders, said: "Where appropriate, schools conduct searches and use metal detectors, and they implement robust disciplinary procedures against anyone found in possession of a weapon.
"Young people are taught about the dangers of offensive weapons both in lessons and in talks delivered by invited speakers," Barton told the Guardian.