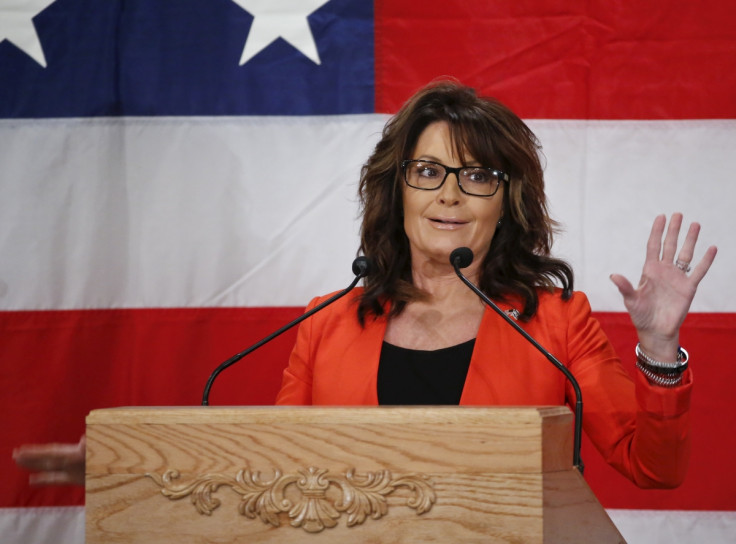 Former Alaska governor Sarah Palin has hit out at Donald Trump's deal to prevent air-conditioning company Carrier from outsourcing jobs to Mexico.
Despite being rumoured to be under consideration for a role on Trump's team as secretary for veterans' affairs, Palin appeared comfortable criticising the president-elect's deal.
She wrote in an op-ed for Young Conservatives: "When government steps in arbitrarily with individual subsidies, favoring one business over others, it sets inconsistent, unfair, illogical precedent. Meanwhile, the invisible hand that best orchestrates a free people's free enterprise system gets amputated.
"Then, special interests creep in and manipulate markets. Republicans oppose this, remember? Instead, we support competition on a level playing field, remember? Because we know special interest crony capitalism is one big fail.
She added: "Politicians picking and choosing recipients of corporate welfare is railed against by fiscal conservatives, for it's a hallmark of corruption. And socialism. The Obama Administration dealt in it in spades.
"Recall Solyndra, Stimulus boondoggles, and all their other taxpayer-subsidized anchors on our economy. A $20 trillion debt-ridden country can't afford this sinfully stupid practice, so vigilantly guard against its continuance, or we're doomed."
However, Palin did have a drop of praise for the deal, beginning the editorial by writing: "I am ecstatic for Carrier employees! Their bosses just decided to keep shop onshore.
"What a relief for hundreds of workers. Merry Christmas Indiana!"
She also suggested she would admit her concerns may be unfounded, once the terms of the deal were made public.
"Well-meaning, burdensome federal government imposition is never the solution. Never. Not in our homes, not in our schools, not in churches, not in business" she added.
"Gotta have faith the Trump team knows all this. And I'll be the first to acknowledge concerns over a deal cut by leveraging taxpayers interests to make a manufacturer stay put are unfounded – once terms are made public."
Palin endorsed Trump reasonably early on in the election process, and was at one point rumoured to be among those under consideration for the VP role, before it was given to Mike Pence.
Her name has continued to come up as a potential member of Trump's cabinet, with an aide to Palin telling ABC News the former governor had spoken with Trump's transition team and told them: "I feel as though the megaphone I have been provided can be used in a productive and positive way to help those desperately in need."