Following a surprise election victory for Donald Trump, all eyes are now on his cabinet picks, with Chris Christie, Sarah Palin and Newt Gingrich being touted as possible candidates.
The GOP president elect is expected to choose people who have remained loyal to him throughout his campaign, preferring to be surrounded with allies, although he may also make some shrewd choices that give him wider party support.
A vocal backer throughout his campaign, Gingrich is rumoured to be considered for the secretary of state role, while NBC News reported former New York mayor Rudy Giuliani, whose strategy on crime Trump so admires, is reportedly under consideration for a position as attorney general.
Former presidential hopeful turned Trump supporter Chris Christie is also likely to be rewarded for his support with a cabinet role, although there has been no word as yet on what that role might be, while another former rival-come-supporter Ben Carson is also being touted for a role.
It is believed Carson, who is a retired doctor and was one of the people thanked in Trump's victory speech, could be considered for a role as health and human services secretary, although his name is also being bandied about as a possible education secretary, Politico reported. However, the Education Department is not likely to play a big part in Trump's administration.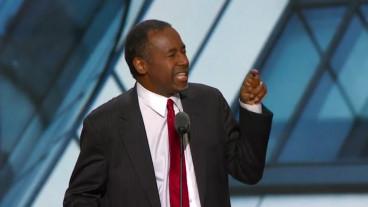 Former Alaska governor Sarah Palin has also been thrust back into the spotlight during Trump's campaign, and has openly said she would like to be a part of his cabinet.
Palin backed Trump reasonably early on during primary season, and was at one point rumoured to be under consideration for a VP running mate spot.
For his part, Trump has also suggested he would like to make room for Palin if possible, although it is not clear which position she would fill.
There are a selection of other names in the bag for top jobs including retired Lieutenant General Mike Flynn, the former chief of the Defense Intelligence Agency, who Trump allegedly wants in a senior defence role.
However, as with his VP pick, which came as something of a surprise, Trump may pick less high-profile names in return for candidates who bolster support from certain areas – although he is no longer attempting to curry favour with party elites, rather the opposite now.
The Republican has also made it clear he will be looking to established industry figures rather than politicians for jobs likely to include including finance, trade and interior secretary, with Lucas Oil co-founder Forrest Lucas, Goldman Sachs alumni Steven Mnuchin and businessman Wilbur Ross reportedly under consideration.
However, those eager to get confirmation of Trump's cabinet pick may be waiting for some time.
Despite Barack Obama announcing the majority of his cabinet by mid-December 2008, a month before he took office, it is not yet clear whether Trump will make the same decision, or wait until January to confirm his appointments.