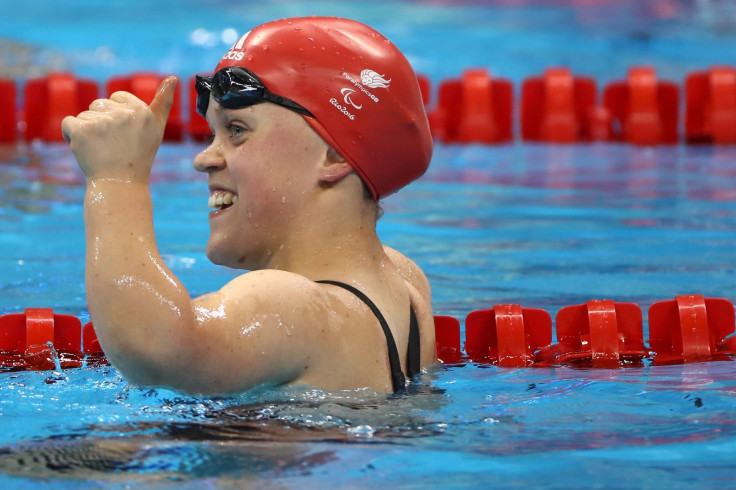 Swimmers Sascha Kindred, Ellie Simmonds and Susie Rodgers all won gold medals for Team GB on day five of the Paralympics in Rio. Kindred and Simmonds both broke world records in their respective SM6 200m medley races, while Rodgers set a new personal best in the S7 50m butterfly to secure Britain's fifth gold of the day, taking their overall tally to 63, with 28 golds.
Simmonds, 21, retained her title in a time of 2.59.81 and subsequently admitted she felt extremely nervous prior to the race. "It's not sunk in what I've done yet. I know my time was under three minutes so I'm really happy with it," she told Channel 4. "I'm really chuffed. It's a target I've set and I've wanted to go under for a long time."
Meanwhile, Rodgers, 33 – who was born without a fully formed arm and leg on the left side of her body – was left in a state of shock following her gold medal success in Rio. "I can't believe I've done that. I was trying for the silver if I'm honest," she told BBC Radio 5 live. "I wasn't going to carry on after London 2012."
Their success was supplemented by that of Kindred, who was born with a form of cerebral palsy. The veteran Paralympian, who made his debut at Atlanta in 1996, has now won 13 medals – seven of them gold – and later revealed that the disappointment of only winning a silver at London 2012 inspired his success.
"The last four years have been just amazing and this is the perfect ending," he told BBC Radio 5 live. "I knew I had more in me and I didn't want London to be my last competitive swimming memory."
Elsewhere in Rio, Will Bayley took gold in the class 7 table tennis, while Aled Davies won the F42 shot put. Bayley, 28, won silver at London 2012 and was understandably thrilled to have gone one better in Rio. "Four years was a long time to wait and there was no guarantee I would ever get the chance to go for gold again, but I'm so proud to win this," he told BBC Sport.