Saudi Arabian miniskirt-wearing model Khulood arrested by police in Riyadh
Snapchat video has caused fierce debate in Islamic kingdom.
The young woman, known only as the model Khulood, who was filmed walking through an ancient Saudi Arabian fort wearing a mini-skirt and bearing her midriff has been arrested, according to Saudi Arabian state TV.
The video, first shared on Snapchat, shows her walking around an empty historic fort in Ushaiager, a village north of the capital, Riyadh, in the desert region of Najd, where many of Saudi Arabia's most conservative tribes and families are from.
[UPDATE: Saudi Arabia's miniskirt model Khulood has been released without charge?]
A Riyadh police spokesman said in a statement: "She admitted to visiting the site in question with a male guardian, and that the viral videos were published by an account attributed to her without her knowledge."
Competing Twitter hashtags emerged after the video emerged, with one demanding the woman's arrest and another asserting that freedom of dress should not be a crime.
Ibrahim al-Munayif, a Saudi writer with more than 41,000 followers on Twitter, wrote on his official account that allowing people to disobey the law leads to chaos.
"Just like we call on people to respect the laws of countries they travel to, people must also respect the laws of this country," he wrote.
Reports that she was being hunted by religious police appear to have been stood up this afternoon (18 July) as Al Ekhbariya reported her arrest.
"Riyadh police arrested a woman dressed in indecent clothing in the village of Ushayqir, and has sent her to the public prosecutor," the network said in a tweet.
Social media is wildly popular in Saudi Arabia as a space to vent frustrations and gauge public opinion.
With more than half of the population of Saudi Arabia under 25-years-old, the country's 30-year-old heir to the throne, Crown Prince Mohammed bin Salman, has pushed for greater openings for entertainment in part to appease the country's youth, but strict gender segregation rules and other restrictions on women's movement remain in place.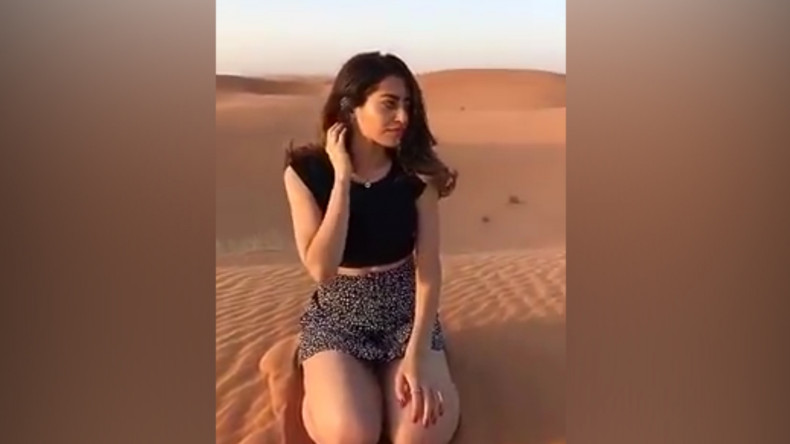 "Khulood" is Arabic for "immortality", and was the name of a hugely popular 1948 Egyptian romantic drama movie starring Faten Hamama. The movie detailed the tangled affairs of a woman with many suitors.