A young woman filmed walking through a Saudi Arabian fort in a miniskirt and with her mid-rift exposed could face jail after the video went viral on Snapchat. [update: Saudi Arabian miniskirt-wearing model Khulood arrested by police in Riyadh]
The woman, a model known as "Khulood", has sparked a fierce debate in the ultra-Conservative Islamic kingdom where women must wear wear long, loose-fitting garments by law.
Khulood, who appears to be Middle Eastern, was filmed walking around an empty historic fort in Ushaiager, a village north of the Saudi capital, Riyadh.
Khulood has been reported to be a model by the BBC and there are suggestions that her identity is known by the authorities.
The kingdom's religious police are now considering what actions to take against Khulood for violating public decency laws, according to CNN Arabic.
An estimated 4,000 people work for the Committee for the Promotion of Virtue and the Prevention of Vice in Saudi Arabia, which enforces a strict interpretation of Sharia Law.
A picture alleging to show Khulood's arrest warrant was uploaded to Twitter by a UAE feminist writer but IBTimesUK has not been able to confirm its authenticity.
A number of high-profile floggings and executions have taken place inside the kingdom for morality offences.
Outspoken atheist Ahmad Al-Shamri is currently facing the death penalty for a series of high-profile social media videos in which he challenged religious authority
In 2015, activist Raif Badawi came to the attention of the world after he was sentenced to 1,000 lashes and 10 years in prison for advocating free speech on a blog.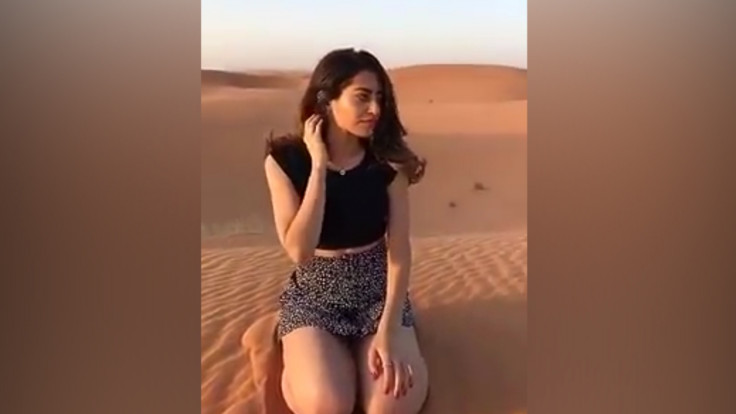 The case of Khulood has prompted fierce debate within the kingdom with competing Twitter hashtags emerging: one demanding the woman's arrest and another criticising the country's dress laws.
"Just like we call on people to respect the laws of countries they travel to, people must also respect the laws of this country," wrote Ibrahim al-Munayif, a Saudi writer with more than 41,000 followers
"If she was a foreigner, they would sing about the beauty of her waist and the enchantment of her eyes... But because she is Saudi they are calling for her arrest,2 said Twitter user Fatima al-Issa.