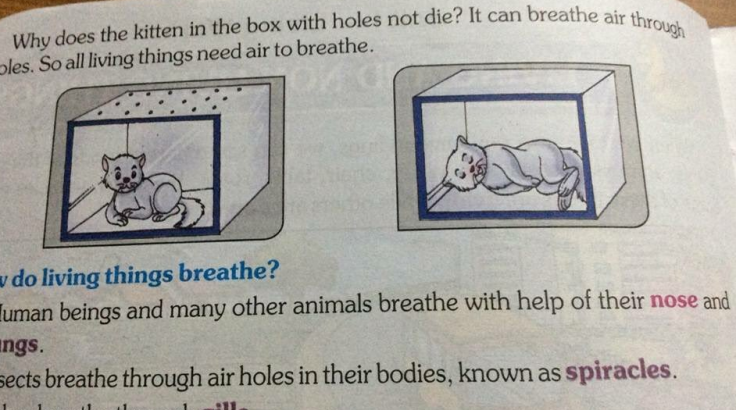 A textbook is being withdrawn from Indian schools after parents complained that it instructed children to conduct an experiment which involved killing a kitten.
In a chapter explaining the difference between living and non-living things the Our Green World - Environmental Studies book directs children to place two small kittens in separate boxes – one fitted with air holes and one without.
It reads: "No living thing can live without air for more than a few minutes. You can do an experiment. Take two wooden boxes. Make holes on the lid of one box. Put a small kitten in each box. Close the boxes. After some time open the boxes. What do you see? The kitten inside the box without holes has died."
The text is accompanied with illustrations of two kittens: one sitting alertly in a box punctured with holes and another unconscious, presumed suffocated, in a box without holes. The passage concludes: "So all living things need air to breathe."
Pictures of the text uploaded onto Twitter on 2 February were met with fierce reaction. Prashant Sani wrote: "This is sad. The author of the book should be banned from writing." User Tamil1947 said: "Zero wisdom and unfit to step on [the] curriculum, or be anywhere around impressionable children!"
The book is reportedly used in hundreds of schools across India. The publishers have promised to stop distributing it until an updated version has been produced - with the controversial experiment removed, according to The Indian Express.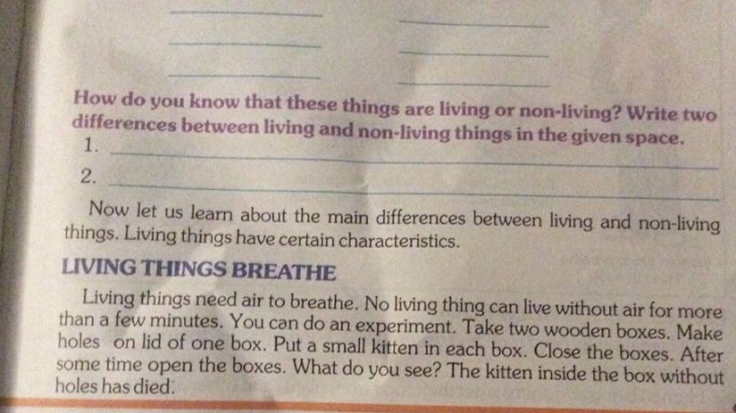 Parvesh Gupta of PP Publications said: "A parent had called us a couple of months ago and asked us to remove the text from the book because it was harmful for children. We recalled books from our distribution channel and will come out with a revised book next year."
The Federation of Indian Animal Protection Organisations (FIAPO) say they also received complaints about the book. Spokesman Vidhi Matta said: "We spoke to the publishers and told them about the objectionable material. They agreed to discontinue the book and also said they would come out with a new edition for next year."
India is home to several religious traditions that advocate compassion towards animals. There are more vegetarians in India than the rest of the world combined.