President Obama reaffirmed the special relationship between the UK and the United States and congratulated the people of Scotland after a "full and energetic" referendum on Scottish independence.
The Democratic Party politician, who first took office in 2008, said he welcomed the result of the referendum, which saw Scots reject independence by 55% against 45%.
The vote saw 84.6% of Scotland's electorate turn out to vote in the referendum.
"We welcome the result of yesterday's referendum on Scottish independence and congratulate the people of Scotland for their full and energetic exercise of democracy," Obama said.
"Through debate, discussion, and passionate yet peaceful deliberations, they reminded the world of Scotland's enormous contributions to the UK and the world, and have spoken in favour of keeping Scotland within the UK.
"We have no closer ally than the UK, and we look forward to continuing our strong and special relationship with all the people of Great Britain and Northern Ireland as we address the challenges facing the world today."
Constitutional Crisis?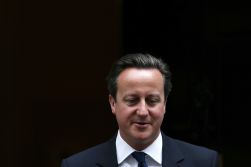 The comments come after the Prime Minister David Cameron unveiled plans to devolve more powers from Westminster to Holyrood following the referendum.
Cameron said that only English MPs will be able to vote on English issues, and implied the same for Wales and Northern Ireland.
"The people of England, Wales and Northern Ireland must have a bigger say", Cameron said.
He also announced that William Hague will put plans in place, with a Cabinet Committee to be formed.
But the leader of the Labour Party Ed Miliband countered Cameron's pledge and called for a full "constitutional convention" over plans to devolve powers from Westminster to the home nations of the UK.
"We know there is deep anger across the UK with Westminster politics from so many people who feel left out and left behind – that our country doesn't work for them," Miliband said.
"In the coming weeks we will set out a process to begin before the next election with every region in the country engaged in a dialogue with the people about how power needs to be dispersed, including in England."
The Labour Party said the "constitutional convention" would be held in autumn 2015 and would be designed to determine the UK-wide implications of devolution and to bring these recommendations together.
"It will discuss the shape and extent of English devolution and what reforms are needed in Westminster, as well as the case for a regionally representative Senate or for codifying the constitution," a statement from the party said.
"Major recommendations would then by debated by parliament."