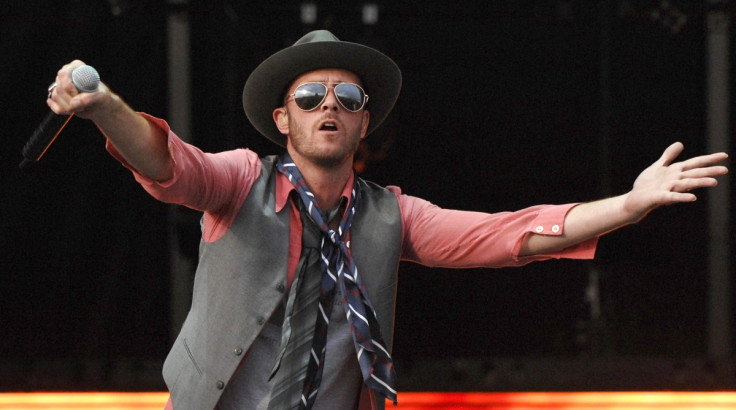 Tommy Black, one of the bandmates of former Stone Temple Pilots frontman Scott Weiland, who was found dead on his tour bus on 3 December, has been arrested for cocaine possession. Minnesota Police found a small amount of the narcotic in the tour bus bedroom where 48-year-old Weiland's body was found. Thomas Delton Black, 47, aka Tommy Black, is the bass player in Weiland's latest band The Wildabouts.
Weiland, who was a recovering heroin addict, was found dead in the US town of Bloomington on Thursday (3 December). The Grammy Award-winning singer was a star of the 90s grunge music movement, made famous by Nirvana and Kurt Colbain.
Jamie Weiland, Scott Weiland's wife, has insisted that the former frontman of Velvet Revolver was clean of drugs at the time of his death, but had been drinking "socially" recently.
The cause of Weiland's death has not yet been confirmed, as the results of an autopsy are yet to be announced.
Tributes from music peers
Icons from the world of music flooded social network sites with their tributes to Weiland after is death. A statement on the official Stone Temple Pilots Facebook page said: "Together we crafted a legacy of music that has given so many people happiness and great memories. The memories are many, and they run deep for us. We know amidst the good and the bad you struggled, time and time again. It's what made you who you were."
Weiland's Velvet Revolver bandmates, which include former Guns 'n' Roses guitarist Slash, bass player Duff McKagan and drummer Matt Sorum, also took to Facebook and said: "We are deeply saddened to learn of the loss of our old friend and bandmate, Scott Weiland. We experienced a good chunk of life with Scott, and even in his darkest times, we all had hope and love for him. His artistry will live on, of that, there is no doubt."
Smashing Pumpkins frontman Billy Corgan said that if he was asked to name the voices of his generation it would be Weiland; Layne Staley, lead singer and co-songwriter of Alice In Chains, who died of a heroin overdose in 2002; and Nirvana's Kurt Cobain, who committed suicide in April 1994 at the age of 27.
Drug addiction fight
Weiland – whose hits with Stone Temple Pilots included Interstate Love Song and Plush – had a history of drug abuse. He was arrested in 1995 for attempting to buy crack cocaine and was arrested two years later for heroin possession.
In 1999, the singer was ordered to spend a year in a county-jail recovery centre fora probation violation. He entered rehab following a DUI arrest in November 2007.
In his 2011 memoir Not Dead and Not For Sale, Weiland describes one of his first experiences with heroin and said he was "undisturbed and unafraid, a free-floating man in a space without demons and doubts".
Jamie and Scott Weiland met on the set of his music video of I'll Be Home for Christmas, one of the singles from his third solo album, The Most Wonderful Time of the Year, which was released in 2011.
Weiland is survived by Jamie and two teenage children, Noah, 15, and Lucy, 13, from his first marriage to Mary Forsberg.