Scottish Independence: Civil Unrest and Polling Day Violence Feared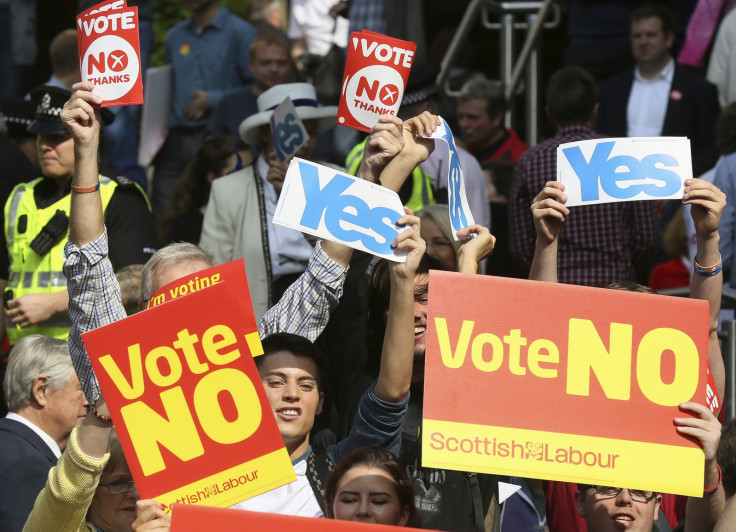 Police in Scotland are planning for civil unrest following the result of this week's independence referendum.
The result will be announced on Friday 19 September and Police Scotland said it is putting an "appropiate plan" in place for the morning after the "significant event" happens the night before.
There will be a higher police presence in anticipation of potential trouble, with officer leave said to have been cancelled across some areas of Scotland over fears of clashes the day after the country has decided its future at the polls.
And at polling stations across Scotland on 18 September, reports claim staff have been warned to prepare for "disturbances".
The No campaign has told IBTimes UK of cases of vandalism, with opponents also ripping posters, while leader of the Better Together campaign Alistair Darling reported being "menaced" while out canvassing to keep the UK together.
Describing the treatment of No campaigners at the hands of pro-independence rivals, former British chancellor Darling said: "I have been involved in political campaigning for about 35 years and I've never seen anything like this."
He called on Scots to not be intimidated as they consider how to cast their votes on Thursday.
"I think we will win as I don't think Scotland is going to get bullied in to accepting something it doesn't want," he said.
Reports of scuffles that left three people injured at a football ground in a clash over the referendum came earlier in the campaign.
And pro-independence campaigners besieged the headquarters of the BBC in Glasgow, demanding the sacking of political editor Nick Robinson over coverage of the debate.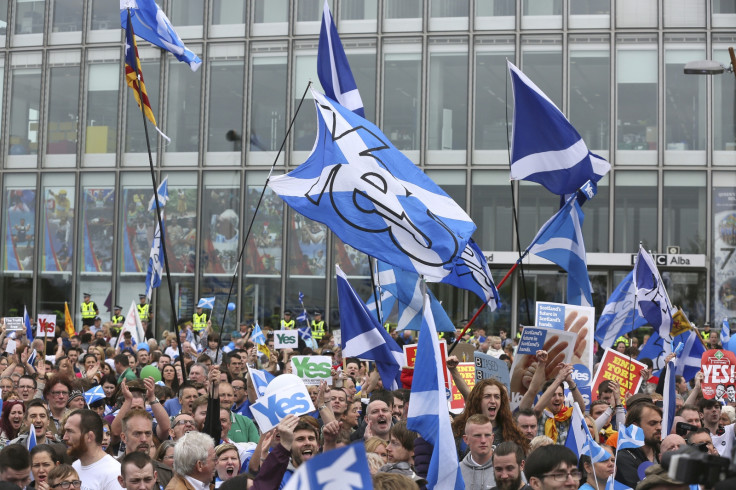 The Better Together campaign branded some of the actions by Yes rivals as "intimidation". In a strongly worded statement, a spokesman said: "Whether it's abuse directed at No voters online, the vandalism and destruction of our field posters or the shouting down of opposition voices, the nationalists have tried to intimidate people into silence.
"It won't work. The quiet, patriotic majority in Scotland are finding their voice and they are saying 'no thanks' to the risks of separation."
But the potential for unrest and disturbances does not come only from the Yes camp.
Last weekend, a heavy police presence was in force at a march by the unionist Orange Order in Glasgow. A carefully planned route designed to minimise flash points result kept the peace and no arrests were reported.
Assistant Chief Constable Bernard Higgins of Police Scotland said: "The referendum is a significant event which is expected to attract a higher than normal turnout. Policing arrangements for the referendum are well in hand and will be appropriate and proportionate.
"Police Scotland's priority is to ensure public safety and security. We will respond appropriately to any issues which arise. We will not offer comment on the numbers of officers or their specific operational deployment."
© Copyright IBTimes 2023. All rights reserved.