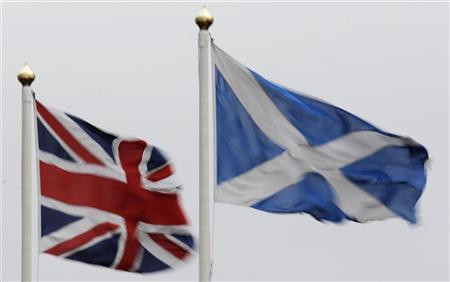 The UK government will try and cut some of the red tape surrounding Scotland's oil and gas sector in a bid to unlock £200bn reserves and win support for the country to remain part of Britain.
Prime Minister David Cameron is set to have his first full cabinet meeting in Scotland this week and Whitehall's pledge is aimed at winning over Scots who get to vote on September over whether to end their 307-year-old union with England.
"I promise we will continue to use the UK's broad shoulders to invest in this vital industry so we can attract businesses, create jobs, develop new skills in our young people and ensure we can compete in the global race," said Cameron in a statement.
The UK government's meeting this week is aimed at persuading the Scots to vote 'No' when they will be asked the straight "yes/no" question: "Should Scotland be an independent country?"
According to the the National Institute of Economic and Social Research (NIESR), between 2001 and 2011 in cash terms, Scotland grew significantly faster than the rest of the UK at a rate of 0.7% annually due to the effect of North Sea oil and gas on GDP growth.
Scotland retains around two thirds of all income from profits and employment due to the North Sea oil and gas industry to a tune of over £10bn ($16.5bn, €12.1bn).
However, according to the latest monthly report from the Organisation of Petroleum Exporting Countries (Opec), the average oil output in 2013 from the North Sea registered its lowest level since 1977.
This represented a roughly 10% decline from the previous year of 90 thousand barrels per day (tb/d) and could undermine the arguments a number of Scottish nationalists regarding the North Sea oil and gas cash cow which would be available to Scots.
"Projected production in 2014 could be lower than actual production in 2013 by 70 tb/d to average 0.80 mb/d, since supply is likely to experience fewer unplanned shutdowns in 2014 compared with 2013. On a quarterly basis, UK oil output in 2014 is expected to average 0.84 mb/d, 0.78 mb/d, 0.73 mb/d and 0.83 mb/d, respectively," added Opec.
However, Whitehall said that the change to oil and gas sector regulation could lead to £200bn worth of reserves over the next twenty years by unlocking 3-4 billion more barrels of oil.