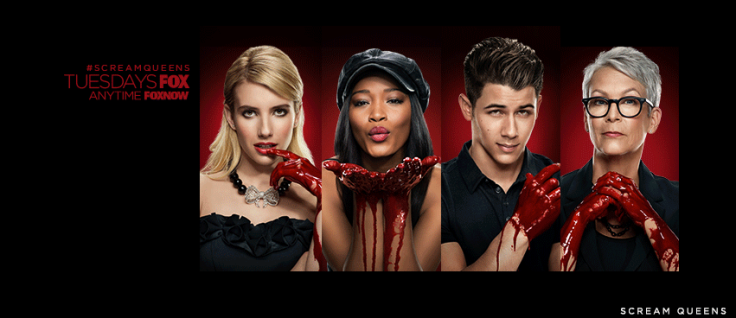 Scream Queens is not done with Ariana Grande's character Chanel#2, even after she is mercilessly stabbed by a serial killer dressed as the Red Devil. Her death will not stop the ruthless sorority queen Chanel, who is planning to save her throne at the Kappa Kappa Tau (KKT) after it was declared that the house will be open for anyone who want to take the pledge.
According to the synopsis released by Fox, the KKT president starts searching for another sidekick after the death of Grande's character. She finds Lea Michele's Hester (the one with the neck brace) the most suitable candidate for the job.
Dean Munsch, on the other hand, will initiate an investigation and appoint Chad and Earl Grey to search for the murderer who is roaming free in Wallace University and killing the girls one by one. Here is the synopsis for episode 3 titled Chainsaw via TVGuide: "Chanel's latest project is Hester; Chanel #3 has a confession to make; and Grace and Zayday notice a startling connection between two fellow students. Meanwhile, Denise goes gunning for a Kappa; Dean Munsch appoints a new mascot; and Chad and Earl Grey muster the fraternity to go on a witch hunt for the Red Devil."
After the two-hour premiere episode, fans of the Problem singer were outraged following the death of Chanel#2, but show creator Ryan Murphy revealed that she will be back on or after episode 6 of the Fox horror series. "She comes back I believe in episode 6 and maybe more," Murphy told Entertainment Weekly. "She's recurring definitely. Everyone thinks she's gone, but she's not gone." Chances are high that the singer will appear in flashback scenes that will reveal her connection with the killer or what led the Red Devil to stab her.
The show creator also makes it clear that Grande was signed for only one episode. "Initially she was just going to do one episode, but she loved the process so much that she wanted to do more," he told E! News.
In the show, everyone has a motive to kill the victims and it will be interesting to see who comes out as the real face behind the scary Red Devil costume. Scream Queens will return with episode 3 on 29 September (Tuesday) on Fox.