Ariana Grande may not have a permanent stay at the Kappa House of Wallace University. A leaked scene from Fox's upcoming horror thriller Scream Queens that found its way to YouTube reveals the short-lived fate of the singer who recently weathered the doughnut-licking scandal.
According to the show synopsis, a devilish murderer is unleashing his/her bloody terror after anti-Kappa Dean Munsch declares that sorority pledging must be open to all students, and not just the school's silver-spooned elite.
Jejebel reports that the YouTube clip has been removed as the character of Grande was shown getting stabbed in the neck by a murderer in a devilish costume. Her character then defends herself and tries to tweet for help but gets stabbed again in the head.
Show creator Ryan Murphy had earlier said that the series is somewhat similar to American Horror Story and only four characters will survive till the end of season 1.
"It's anthological but different in that at the end of the first season there will only be four characters out of 25 left. And those four in season two will go on to a new horror genre — like a sorority is a horror genre to me, it's a place where there were horror movies in the '80s like Sorority Row — and they will go on."
The trailer of the show reveals that an unfortunate death (read murder) that took place around 20 years ago in the Kappa House, haunts inmates when a person with a scary red mask starts killing students one by one.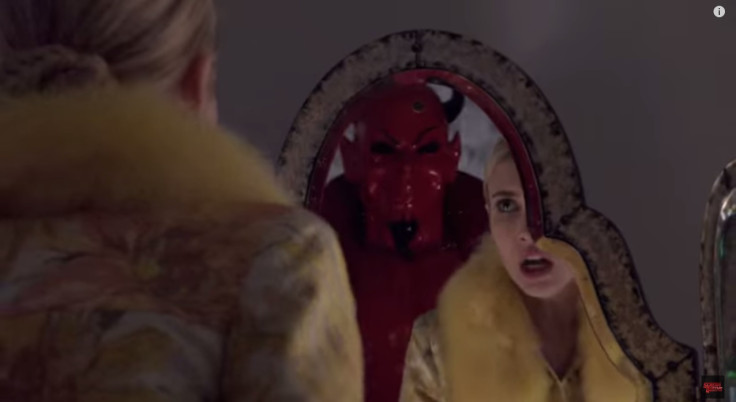 The synopsis of the series reads: The girls of Kappa House are dying for new pledges. Scream Queens is a new killer comedy-horror series from Ryan Murphy, Brad Falchuk and Ian Brennan. Wallace University is rocked by a string of murders. Kappa House, the most sought-after sorority for pledges, is ruled with an iron fist (in a pink glove) by its Queen Bitch, Chanel Oberlin (Emma Roberts). But when anti-Kappa Dean Munsch (Jamie Lee Curtis) decrees that sorority pledging must be open to all students, and not just the school's silver-spooned elite, all hell is about to break loose, as a devil-clad killer begins wreaking havoc, claiming one victim, one episode at a time.
Part black comedy and part slasher flick, Scream Queens will air the two-hour premiere on Tuesday 22 September on Fox Network.