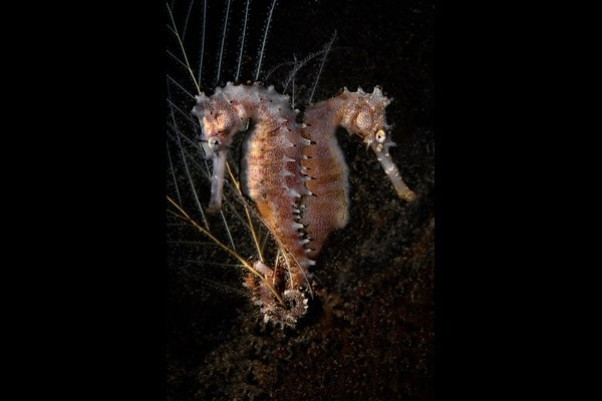 Males that give birth, females that perform romantic dances, and pairs of seahorses that form life-long relationships are some of the facts that visitors will discover at a new show in London.
The exhibition at ZSL London Zoo features the latest technology, allowing its team of aquarists to continue their breeding projects for these rapidly declining species.
The zoo has bred hundreds of seahorses in the past four years, with more than 300 individuals moving on to join other breeding groups across Europe.
With eight bespoke tanks, Seahorses will show visitors the various stages of the seahorse lifecycle, with special curved tanks for the fry, the seahorse babies.
ZSL's team of presenters will be revealing Seahorse Secrets every day during half term, with a daily talk about these remarkable creatures, including what seahorses have in common with monkeys and chameleons.
Facing habitat loss due to fishing and trawling in the wild, seahorses are increasingly threatened and breeding programmes are important.
Seahorses are notoriously difficult to rear in captivity. Using new techniques and equipment, Sam Guillaume and the London Zoo team have managed to breed 918 threatened short-snouted seahorses, which are all at ZSL's Aquarium.
"I first began work to breed our seahorses a year ago, which was quite a daunting task because they're so fragile to work with," said Guillaume.
"Last year we managed to breed a batch of fry, but sadly none of them made it through to adulthood.
"This year marks the very first time we've managed to rear short-snouted seahorses to a stage where they're eating live food and I'm absolutely thrilled."
Guillaume attributes the team's success to the use of new feeding techniques and bio-orb tanks.
The shape of the tanks helps keep the seahorses in the water column and stops them from developing fatal amounts of gas in their gut.
Although they are bony fish, Seahorses are named for their equine appearance. They do not have scales but rather thin skin stretched over a series of bony plates.
Seahorses swim upright, another characteristic that is not shared by their close pipefish relatives, which swim horizontally. Razorfish are the only other fish that swim vertically like a seahorse.
Unusual among fish, seahorses have a flexible, well-defined neck. They also sport a coronet on the head, which is different for each individual.
Since they are poor swimmers, seahorses are most likely to be found resting with their prehensile tails wound around a stationary object. They have long snouts, which they use to suck up food, and eyes that can move independently of each other.
Can You Seahorses? runs at the ZSL London Zoo until 24 February.