Two 14-year-old girls are said to be in a "very critical condition" after being shot by high school gunman Jaylen Fryberg.
The freshman opened fire on a group of former friends at the Marysville High School in Washington on Friday (24 October), killing one person and injuring five others, before turning the gun himself.
The 15-year-old killer reportedly went on the shooting spree, targeting his victims from hundreds in a cafeteria, after he was rejected by one of the girls.
Gia Soriano and Shaylee Chuckulnaskit are both being treated at the Providence Regional Medical Centre in Everett, Washington. A picture uploaded to Facebook shows Shaylee posing happily with Fryberg.
Two other victims of the shooting - the gunman's cousin Andrew Fryberg and classmate Nate Hatch - are being treated in a nearby hospital.
Dr Joanne Roberts told a news conference that the two girls sustained serious head injuries in the shooting.
She revealed that Gia's family are holding a bedside vigil for their daughter.
A statement from the Soriano family, read: "Our family is in shock we appreciate your thoughts and prayer during this tragedy. Our hearts go out the other victims."
Described as a popular schoolboy, Fryberg was a member of the football and wrestling team and was crowned homecoming prince.
He was part of the Tulalip Native-American tribe and it is thought he was subjected to bullying because of his Native American heritage.
While investigators consider a possible motive for the shooting, a friend of Fryberg said the football star was 'heartbroken' over a girl and didn't know what to do, adding he 'wasn't a bad kid'.
He had written messages on his Twitter page hinting at his personal pain saying: "It breaks me... It actually does."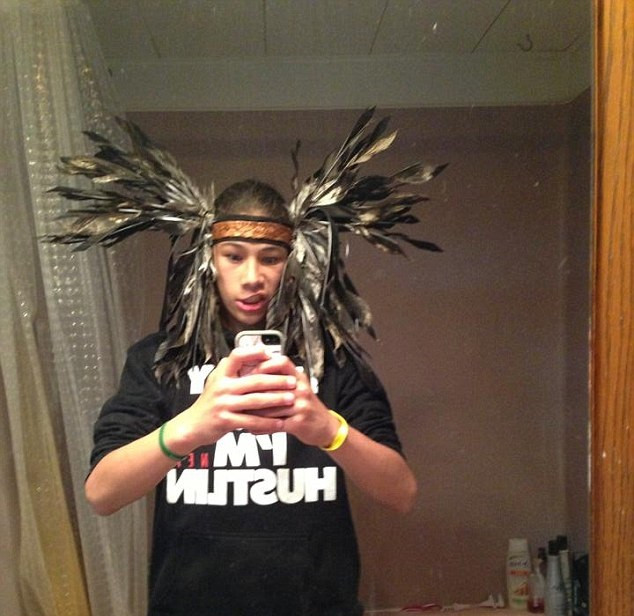 Meanwhile, a teacher at the school has been hailed a hero, after it emerged that she
intervened as Fryberg fired bullets into the cafeteria.
Megan Silberberger ran into the room on hearing the shooting and as the student stopped to reload his gun, she walked over and grabbed his arm.
In a brief struggle that followed, eyewitnesses report that Fryberg pointed the gun at her before shooting himself dead.
Silberger's actions more than likely prevented a massacre at the Washington school.
As the community comes to terms with the tragedy, students, teachers and parents attended a candlelit vigil at a local church.