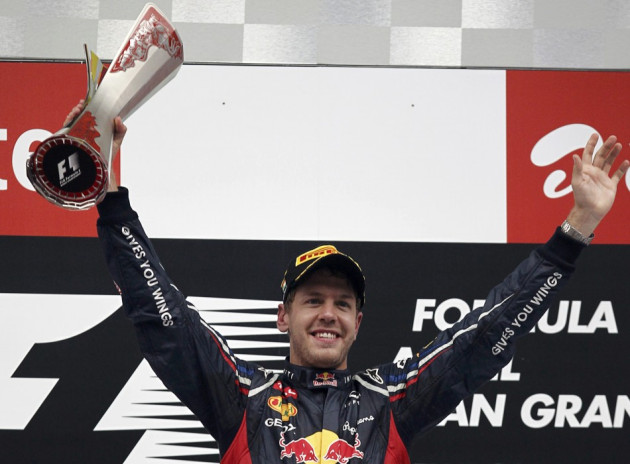 Red Bull's Sebastian Vettel completed his fourth consecutive Formula One win to triumph at the Indian Grand Prix in Noida near New Delhi. The German led from start to finish to open up a 13-point gap between himself and Fernando Alonso of Ferrari with three races to go.
The 25-year-old's achievement is reminiscent of Jenson Button, who was the last man to achieve four consecutive F1 victories (in 2009). Vettel's run of form, notwithstanding a major change in fortunes, is now poised to win him the Championship.
Vettel, who is closing in on three Championship wins, will be the youngest driver to win it for a third time. He has led every race since a series of upgrades to the Red Bull machine and is not expected to give Alonso any leeway in his run for the title. The German's remarkable achievement of leading in every lap over the past three races puts him alongside the legendary Ayrton Senna - the last person to achieve this feat.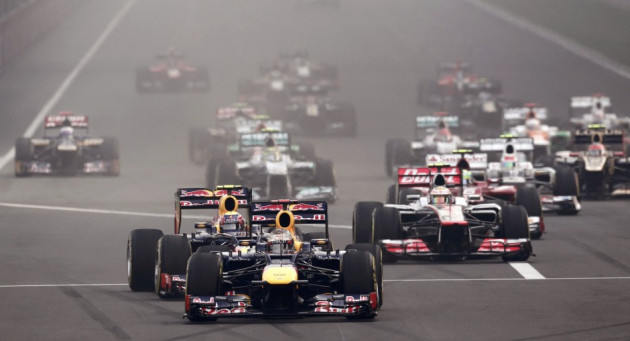 Alonso finished the race in second position, closely followed by Red Bull's Mark Webber, thus completing a double podium finish for the leaders. The McLaren duo of Lewis Hamilton and Jenson Button finished fourth and fifth respectively. Kimi Raikkonen's dismal seventh-place finish, behind Ferrari's Felipe Massa, has killed off any chance of a title challenge from the Lotus driver, with a 67-point gap opening up between him and Vettel. Nico Hulkenberg of Force India, Romain Grosjean of Lotus and Bruno Senna of Williams completed the top 10.
Vettel now leads the table with 240 points, followed by Alonso in second with 227 and Raikkonen a distant third with 173.