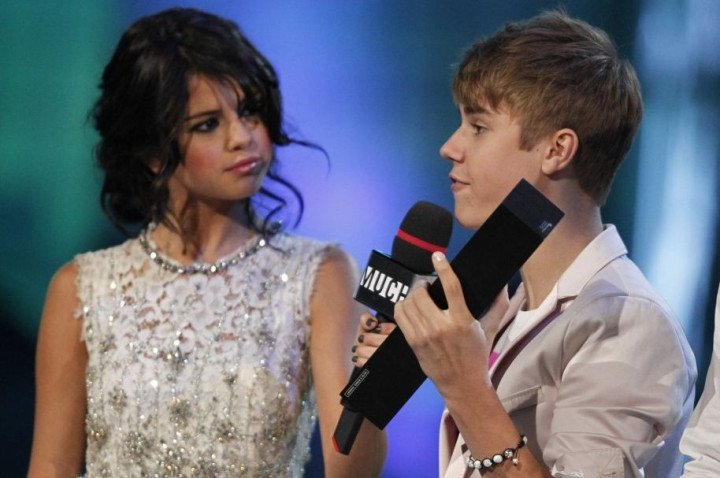 The rumoured split between young celebrity couple Selena Gomez and Justin Bieber seems to be getting messier. According to a report in TMZ, Bieber and Gomez met for a dinner date at Yamato, a Japanese restaurant in the San Fernando Valley, but left soon after, as they got into an argument. The 20-year-old Disney star stormed out of the restaurant, with the 18-year-old Canadian singer leaving next, as inconspicuously as possible.
"Something must have happened inside the restaurant, because ten minutes after he arrived, they both stormed out looking stone-faced," a source told E!Online, "They were very serious and did not look happy at all. She got in her car, and Justin got into his."
And it didn't end there. The source adds Gomez drove off immediately and went home. Bieber, meanwhile, sat in his car, in the parking lot, for a few moments, before following his ex-girlfriend. Unfortunately, when he reached her home, she was not prepared to talk to him and the singer, who performed recently at the 2012 Victoria's Secret lingerie show in New York City, was turned back at the gates.
"She was obviously not letting him in. He continued trying. Then, after a while he got out of his car, he was obviously frustrated and went up to the gate and started yelling 'Selena' over it. But...she was not coming out," the insider explained.
"It was at this point [Justin] started to yell at the paps [paparazzi]," the source continued, "He was obviously annoyed that they were there and witnessing everything. He was mad. Selena then came out, because there was such a commotion, he got in his car and left."
The same source confirmed Bieber's car was at Gomez's residence the next morning.
Gomez and Bieber went public with their relationship in February last year, when they attended the Vanity Fair Oscar party together. Although reports the two are having relationship problems have been around for some time, a more official notification came after a source was quoted as saying: "With them being apart so much it got complicated. She had some trust issues. It's not easy, but the relationship needed to end."
Meanwhile, Bieber, who is scheduled to perform at the American Music Awards (AMA), tweeted his heartbreak: "things arent always easy. there is alot of pressure. im figuring it all out. im trying. but i care, i notice, i still hear u. #Beliebers."