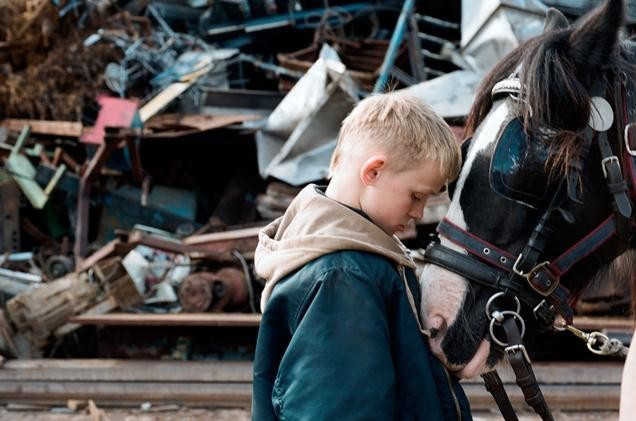 Clio Barnard first made her name in 2010 with The Arbor, a wonderfully original and poignant documentary of the playwright Andrea Dunbar which had actors lip synch the audio recordings from interviews with friends and family residing on the Buttershaw Estate in Bradford. Her follow-up, The Selfish Giant, is a similarly strange adaptation - this time turning an Oscar Wilde fairy-tale into a down-to-earth kitchen sink drama. Focusing on two boys, Arbor and Swifty, as they skip school in order to make money from selling scrap, the movie is let down by predictable a plot and a lack of originality.
If there was a checklist for the British social realist film, this ticks all the boxes.
Angry youth let down by a) their parents and b) the state - check. Arbor, a combative and cantankerous young boy, is brought to life by non-professional actor Conner Chapman. Living in a fatherless home with a drug-addled brother, he finds himself excluded from school after sticking up for his only friend, the bulky but benign Swifty (Shaun Thomas).
Set in a poor industrial area in the north of England - check. Both Arbor and Swifty are shown to have come from poor families, with Swifty's poverty in particular picked on by those at school. After one night seeing two shady characters cutting up railway cables to sell on, they begin collecting junk from around the barren wastelands of Yorkshire and selling it on to local scrap merchant Kitten (Sean Gilder), a man as jagged and harsh as the clutter that surrounds him.
The characters live dank and dreary lives - check. The film is monotonous and miserable in equal measure as the two are bullied and exploited by Kitten to illegally collect different scrap, and later race one of his horses for him. Swifty, despite his clumsy nature, has a gift for horses, much to the chagrin of Arbor, whose focus lies in gathering whatever he can find for profit. The grimness of it all culminates in a painfully predictable but none the less shocking ending.
A thinly-veiled political commentary lurking underneath the story - check. With both children from deprived homes, shirking school in order to make quick and easy money, this is a failed section of society crushed by austerity Britain. An attack on capitalism (the unseen selfish giant of the piece), Arbor's jealousy of Swifty and plunderous nature ends up ruining their friendship. He becomes, to fittingly quote Oscar Wilde, "A man who knows the price of everything and the value of nothing".
All this is set in a brutally ugly northern landscape, where steel pylons and nuclear reactors tower over individuals and the faint hum of electricity is always heard in the background. It brought to my mind The Spirit of the Beehive, a film starring two young sisters growing up in the similarly hazardous and poisonous environment of Franco's Spain.
For non-professional actors, the two spirited lead performances by Chapman and Thomas are impressive. And at a time when deep, harmful cuts are being made to public services and the welfare state, the film also feels both politically pertinent and important. It's just a shame that the tale is told in such an unoriginal, straightforward and obsolete manner. Barnard is clearly a talented filmmaker with a feel for character and an eye for a story, but this is a movie that struggles to find its own voice.
The Selfish Giant is screening as part of the 2013 London Film Festival. The film will be released in UK cinemas nationwide, and on the new BFI Player, from 25 October.
London Film Festival Reviews