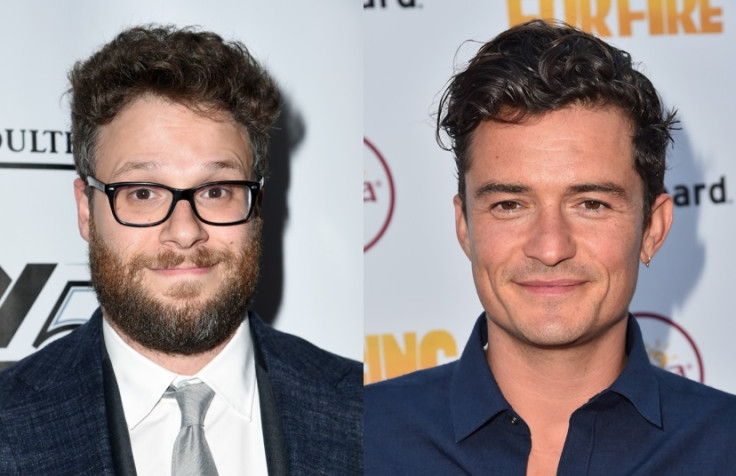 Like most people with access to the internet, Seth Rogen has seen those photos of British star Orlando Bloom and what better time to address them than during the promotion of his anticipated R-rated animation Sausage Party! The Knocked Up actor joked in a recent interview with The Sun that he thinks Bloom staged being snapped in the nude while holidaying in Sardinia with girlfriend Katy Perry, in order to boost box-office sales of his future movie releases.
"I think the philosophy might be: 'It's a competitive market, I'm Orlando Bloom, I've been great for years but you know what, there are all these new kids out there — the Jamie Dornans of the world coming up — maybe I gotta show my d*** to make people remember Orlando Blooms is a f*****g OG (original gangster)," he told the publication. "On a subconscious level, people will probably buy more tickets to the big d*** guy."
The 34-year-old also went on to suggest that Bloom — who is set to reprise one of his better-known characters in Pirates Of The Caribbean: Dead Men Tell No Tales next year — might even get more film roles now that he's shown 'all' too. "I would be lying if I said I wasn't more inclined to put him in something, now that I saw he has a great d***," Rogen laughed. "You wouldn't be on a paddleboard with your c*** out if you didn't have a big d***, and he is a super nice guy. He is very nice."
Rogen isn't the only actor who has spoken out about Bloom's recent stripping-off lately. Dave Franco opened up about what he thought of the images on the Kylie and Jackie O Show on Wednesday 17 August while promoting his current film Nerve. "Maybe he's proud, he's just letting it out, letting it loose," Franco said, before going on about Justin Bieber's similarly nude photos that emerged a few days after Bloom's. "Wow. I mean another situation where he knows that's going to get out there. Who has got the better d**k?"
Sausage Party can currently be seen in cinemas in the US. It will be released in the UK on 2 September. Directed by Thomas & Friends' Greg Tiernan and Shrek 2's Conrad Vernon, the film follows Frank who, along with his other savoury friends, embarks on a journey to "discover the truth about his existence". Just like in previous videos, the recently released clip shows how Frank must try to save his buddies and other fellow edibles that have been purchased by a woman at the supermarket before they meet a grisly fate of being sliced, diced and boiled.
For more entertainment news follow A-List on Twitter @Alistinsider