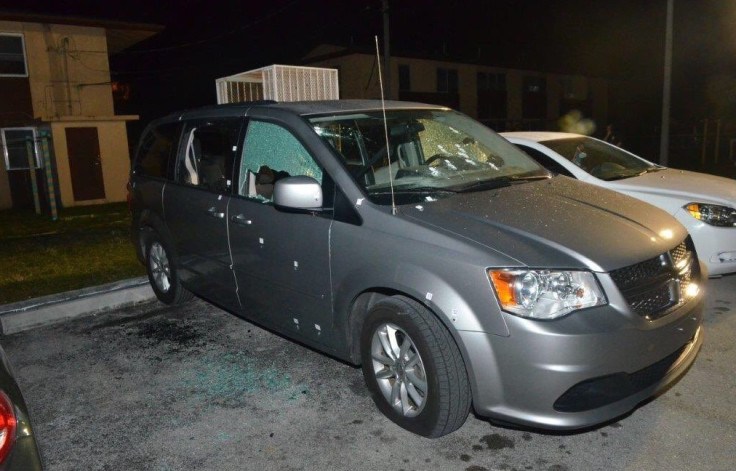 Police say they have made several arrests after two veteran detectives were injured in an ambush by up to six gunman while monitoring gang activity in Miami, Florida.
Miami-Dade police say two of their officers were struck by a hail of bullets when working in the Brownsville area of the city late on Monday (27 March).
It is alleged that up to six suspects who walked past the pair – Terence White, a 26-year veteran on the force, and Charles Woods, an 11-year veteran – turned and opened fire before fleeing from the scene.
Another officer rushed both men, who are part of the Homicide Task Force-Gang Unit, to the nearby Jackson Memorial Hospital. Woods was released on Tuesday (28 March) morning while White remained there in a stable condition.
Miami-Dade Police Maj. Hector Llevat said one of the shooters was aged between 17 and 18 and wearing a hoodie that only showed his eyes.
"They were ambushed in their vehicle, unprovoked," Llevat said according to NBC Miami.
WSVN News reported that authorities were hunting six suspects in connection with the shooting and no details were given as to the ages or identities of those arrested on Tuesday.
"All I hear is bloom, bloom, bloom, bloom," one witness, Michelle Brown, said. "Ever since last week, all I've been hearing is gunshots. Tonight, I heard it like it was out my back door."
Authorities sent Swat team members, K-9 dog units and hundreds of police officers from Miami-Dade and the city of Miami to the area after the shooting with that the state Department of Law Enforcement investigating the shooting.
John Rivera, president of the Miami-Dade police union, said at least one of the officers returned fire, according to Fox News.
"They were outnumbered and outgunned. God was watching over them tonight,'' said Rivera.
Miami-Dade County Mayor Carlos Gimenez visited the hospital after the attack and said police were looking to the community to provide essential information as to the offenders whereabouts.
"If they're brazen enough to to shoot at and try to kill police officers, they'll shoot at others. They don't deserve to belong on the streets in our community," he said.