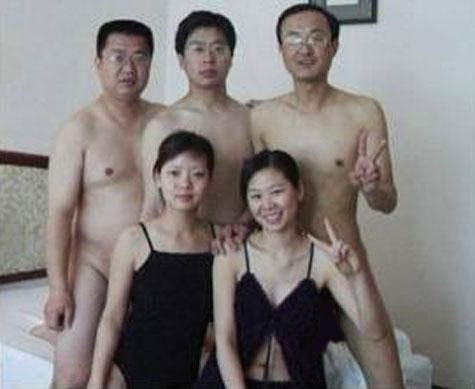 A sex scandal has erupted in China after pictures of three prominent politicians taking part in an orgy were posted on the internet.
More than 100 pictures, depicting three men and two women participating in group sex in a hotel room, were posted on Chinese social media Sina Weibo by an unknown user.
The men were recognised by internet surfers as being the ruling party's leader for the Lujiang district, Wang Minsheng, his deputy, Jiang Dabin, and the party's youth leader at Hefei University, Wang Yu.
Chinese authorities have been implementing a crackdown on pornography. Group sex is a crime in China and carries a maximum five-year jail sentence.
Wang Minsheng and his deputy denied they had taken part in the sex party. The images were Photoshop fabrications by their political enemies to undermine them, they claimed.
Lujiang authorities added to the confusion by denying that the pictured men were local government officials.
The pictures were a "malicious slander", the Lujiang county committee of the Communist Party of China said.
But Wang Yu said he was one of the three men. One of the women in the pictures was his wife, a high school teacher in Hefei, he said.
Chinese authorities have revoked their party membership and Wang Yu has been sacked.
The pictures were taken in a Shangai hotel room five years ago, when Wang Yu and his wife were not yet married, according to Chinese newspaper People's Daily.
China: Assaults, Orgies, Murders and Racing Cars Hit Ruling Party with Online Unrest