Rape the Weapon of Mass Destruction: DR Congo's New Heart of Darkness
Every hour, 48 women are raped in the Democratic Republic of Congo (DRC). The harrowing statistics earned the central African country the unenviable title of "rape capital of the world". In a country officially at peace since 2003, fighting never stopped and with it sexual violence which has been used as a weapons of war throughout the years.
Amid the horrifying crimes committed by militia and the Congolese army in DRC, the mass rape in Minova, a market town in South Kivu, on the border with North Kivu, stands out for its ruthlessness.
Soldiers, around 2,000 of them, were retreating to the town, firing gunshots in the air when the commander ordered them to "go and rape women".
One soldier confessed:
It's true that we raped here. We found women because they can't escape. You see her, you catch her, you take her away and you have your way with her. Sometimes you kill her. When you finish raping then you kill her child. When we rape, we feel free.
In the town, the Congolese army also raped women from a community centre for rape survivors founded by Masika, herself raped multiple times by the militia. Masika says she has become a target since she founded the centre.
"Since I have been doing this work, I have been raped three times," she says. "I have been beaten, tortured and left to die." On one occasion, a soldier raped her with his foot.
"When he finished, he spat on me. That's when I thought about killing myself. I am constantly haunted by this," she says.
Seeds of hope
Masika's story is the focus of a powerful documentary by award-winning film-maker Fiona Lloyd-Davies, working with the Pulitzer Center for Crisis Reporting, entitled Seeds of Hope, which will be screened at the global summit to End Sexual Violence in Conflict, which is about to start on Tuesday in London.
The summit, which lasts four days and is co-chaired by long-time campaigners Angelina Jolie and foreign secretary William Hague, represents the first worldwide attempt to end rape in conflict by ensuring that perpetrators are brought to justice.
Masika was only 15 when she was first raped by a schoolteacher. She was then raped again by the militia along with her two daughters. Militia men then killed her husband.
"They raped me and my two daughters, in front of my husband. After my husband was killed I came face-to-face with such suffering. My in-laws sold our land and threw me out like a street child. I wasn't allowed to take anything but a small plastic bag," she said.
The woman survived thanks to the generosity and support of other women who helped her recover and decided to start up a centre near Maniva that is at the same time a first-aid, psychological counselling and life-rebuilding community.
Masika's centre has helped more than 6,000 women and children in eastern Congo.
"Girl children from rape become victims of rape too"
Lloyd-Davis told IBTimes UK that her first experience in Eastern Congo in 2001, where between 50 and 70% of women have been raped, was "very shocking". "I've covered rape in Bosnia during and after the war but to actually see quite so many people affected, families torn apart, the ways communities have been destroyed and so many women affected was very striking and made me want to come back".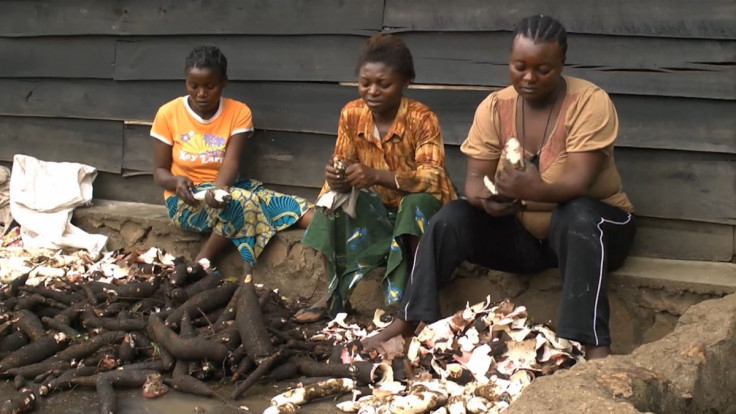 Fiona Lloyd-Davies
Masika and the other women of the centre are very inspirational for the way the managed to raise above repeated violence and finding ways to help each other, says the director.
"I think they have no choice," she says. "In a country that's very poor and life very hard, if you don't get up and get out from bed, their children will starve. I don't think they have a choice and many of them are profoundly depressed and need help. But they also draw from each other strenght. Masika says looking after her children keeps her stable."
The tragedy in eastern Congo, according to the film-maker, is that rape is not just happening once to women and girls. "It happened several times and the girl children, the girl babies they have from rape are themselves becoming victims of rape too," said the director.
A cursed generation
That is the haunting case of one of Masika's daughters, Rachel, who features in the documentary and is the victim of a grotesque twist of destiny.
Rachel at the age of 15, raped and pregnant, made the horrifying discovery that she was the product of rape herself. Masika had been the exact same age, 15, when she was first raped by her school teacher.
"I feel like mine is a cursed generation. My mum getting raped and having me then me being raped and having Stevie. In fact I feel a lot emptiness inside me," Rachel says in the film. The troubled relationship with the first-born son from rape is heart-breaking. Rachel hates him and repeats in the film that if it wasn't' for him she could have become someone - a lawyer maybe.
"Rachel feels her life has been devastated and Stevie, her son, is a constant reminder of what happened to her because he's always there and it is particularly bad for boys from rape because they have no inheritance no status, no name," the director tells IBTimes UK.
Since the filming of Seeds of hope, 39 soldiers have stood trial for the crimes that took place in Minova. However, only two were convicted of rape as a war crime.
One soldier in the documentary expressed remorse over his actions. But he said he would not confess his crimes unless his commanders were brought to justice. "They are the ones who sent us. If those who committed these crimes can be arrested and judged, then that would be good."
UK PREMIERE of Seeds of Hope to be screened at the
Global Summit to End Sexual Violence in Conflict on June 10th, 6.30pm at The Silent Cinema, Excel Centre, Docklands
A film by Fiona Lloyd-Davies supported by the Pulitzer Center on Crisis Reporting
© Copyright IBTimes 2023. All rights reserved.