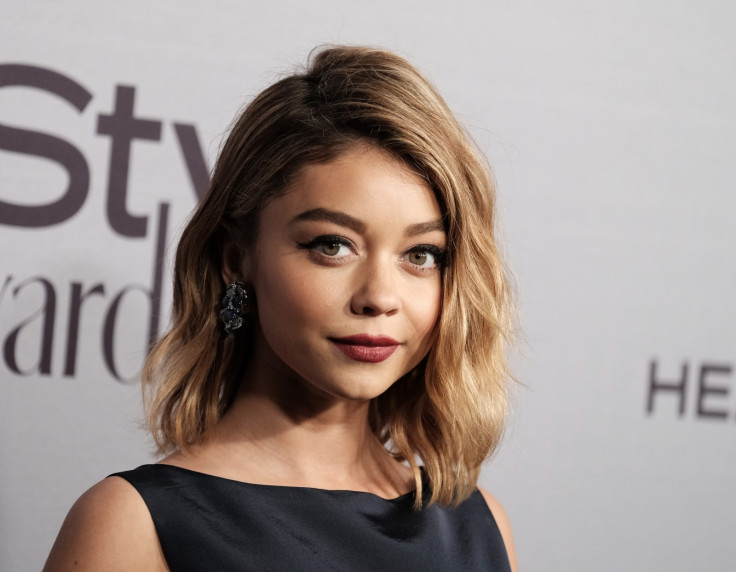 Sarah Hyland is flaunting her new tattoos on social media, with the 26-year-old Modern Family star taking to Instagram to show the outline of her most recent ink to her 5.3 million followers.
The photo features Hyland in a racy navy-coloured lingerie, which highlights her butt, as we can see her new ink, which is just a simple straight line with two circles in the middle, one large and the other small. The post also gave fans a peek at her booty tattoo, which features a T-Rex dinosaur.
The American actress, who is popular for playing Haley Dunphy on Modern Family, captioned the Instagram post with a quote from American poet Robert Frost. ""The best way out is always through" - Robert Frost. Symbolism by @_dr_woo_ for one of my favorite quotes," the ABC star wrote.
Fans of the Modern Family star love her new tattoo, but quite a few of them are also curious about the tattoo on her butt. A user asked, "Is that a tattoo on your booty?" while another questioned, "Wait a second. Is that the dino-tattoo from the other day in your booty? Omg, it really was permanent?! Ahahahha now I love you even more!!"
"Holy Hell! Do you have an ass tat?" a surprised follower asked, while another simply commented, "Absolutely Sexy as Hell."
A fan of Hyland called her the "queen" of Instagram stories, writing, "It's the Instagram stories queen n expert the world. hows life @therealsarahhyland. ur looking flamboyant n ravishing as ever today!"
"Omg, what a perfect body," wrote a follower, appreciating her slender figure.
Back in June, the Vampire Academy actress also opened up about her intense workout and body insecurities.
She told Shape Magazine, "I like to build muscle by strength training with my trainer. I do an hour-long full-body workout five to six days a week whenever I can. We focus on different body parts, and in between each one, I do one or two minutes of cardio. It's pretty intense.
"I'm naturally confident, but I still have insecurities. And that's OK. As long as you feel good about your body, that's what really matters," she explained to the magazine.