British Military personal have defied orders from the Ministry of Defence (MoD) to attend a rally for jailed Royal Marine Sgt Alexander Blackman. Hundreds of people gathered in London's Parliament Square to show support for Blackman, who was convicted of murder after shooting dead a severely wounded Taliban fighter while on patrol in Helmand province in 2011.
Blackman's supporters believe the conviction was a "gross miscarriage of justice" and the marine made a "scapegoat" for other failings during the war. Blackman denies murdering the Taliban fighter, believing he was already dead when he discharged his weapon as he lay mortally wounded after being fired at by an Apache helicopter.
Blackman was jailed for 10 years, later reduced to eight, after being found guilty of murder in 2013. Hundreds of veterans and current servicemen from different military units also attended the demonstration outside parliament urging a review of Blackman's case despite being reminded by the MoD that serving military personnel were not permitted to attend "political protests".
Supporters believe Blackman should have been given a lesser conviction of manslaughter for the killing as he believed he was merely desecrating a corpse, as well as mitigating circumstances such as "loss of control" following cumulative stress and strain from months of combat.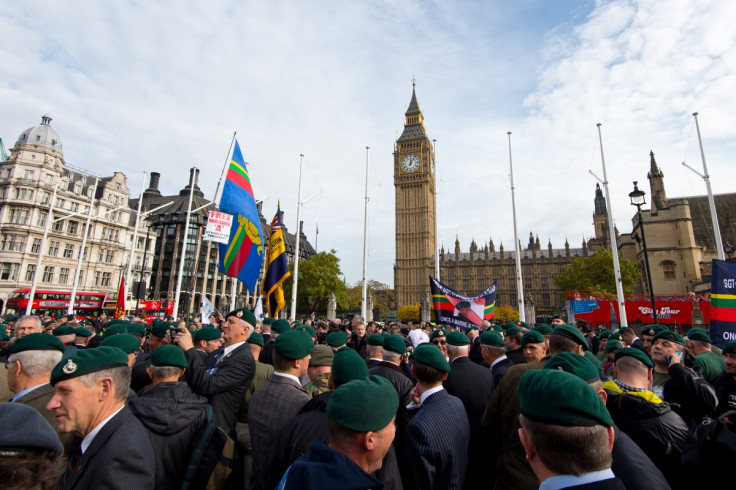 The incident was filmed by a camera mounted on the helmet of a junior Marine who was also on the patrol. Before firing into his chest, Blackman can be heard saying "There you are. Shuffle off this mortal coil, you c**t. It's nothing you wouldn't do to us", before turning to his comrades and saying: "Obviously this doesn't go anywhere, fellas. I've just broken the Geneva Convention." Blackman later claimed his comment regarding the Geneva Convention was in reference to mistreating a corpse.
John Davies, one of the organisers of the event and a supporter of the Blackman campaign for more than two years, told IBTimes UK: "We've come together today to show support and solidarity for Al and his family to show that he's not been left behind, we don't leave people behind. Our main message we are trying to put across is what's happened is wrong and we're asking for the case to be reviewed immediately.
"We all know this is wrong so let's get it rushed up, because currently he is serving eight years minimum to life sentence for serving his country."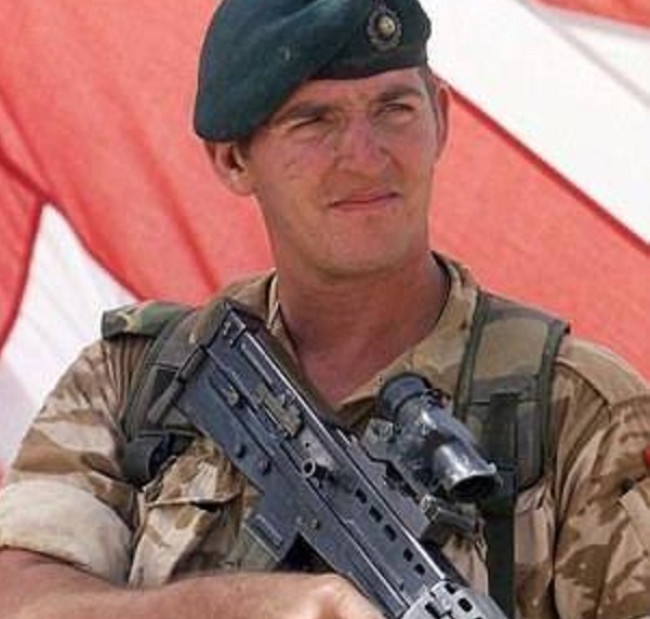 Dom Mee, a former Royal marine who served for 15 years, travelled all the way from Sri Lanka to take part in the rally. He said: "I came here specifically on a 16-hour flight because this is so important, not only important for Al Blackman to get justice, but if this country is going to be selective on justice on a war hero then we've all got an issue.
"We're hugely proud to be here, [but] we're very sorry we're here for this sort of purpose. I don't think any of us in our wildest dreams thought we'd be in Parliament Square for an issue like this, and that's the really sad part.
"I think the MoD have, let Sgt Blackman down, there's no doubt about it. But the MoD are told by the government what to do, so can all default the blame down but as far as I'm concerned, the buck stops at the top...its clear the government wanted to make an example of Sgt Blackman, and that's what they did."
Also attending the rally was Frederick Forsyth, author and former RAF pilot who has long campaigned for Blackman to be freed. He told IBTimes UK: "I'm here for the same reason as anyone else, to show solidarity for a man I believe was wrongly convicted and to try to put pressure on those boys over there [Parliament] to ensure that the review does take place and isn't just fobbed off and brushed under the carpet, which is the usual establishment reaction."
Before the rally took place, an MoD spokesperson reminded serving military members that they were "not to attend any political protests, marches, rallies or demonstrations. Any gathering which seeks to protest against a decision taken by the legal system or the Government falls into this category".
It is not clear how many serving military personnel attended the rally outside Parliament Square.